News
Stay informed about the latest enterprise technology news and product updates.
"Most awesome router ever"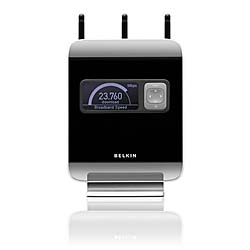 Last Friday, G4TV's Attack of the Show named the wireless Belkin N1 Vision the "most awesome router ever." Co-hosts Kevin Pereira and Olivia Munn rattled off a list of winning specs including 802.11n (although it runs in "mixed" mode), multiple SSIDs, a "guest-enable" feature and easy installation without CDs or software (you just turn it on and your computer detects it automatically).
The obvious thing that's most impressive about the N1, however, is its sleek design and LCD display, which tells you a lot more about your connectivity status than the traditional blinking lights. The N1 is getting a lot of press for its sexy appearance; it looks more like an iPhone than your typical Linksys box.
So is this just for home users with gadget lust? Would you shell out $200 for this sleek 802.11n router — or would you prefer something that looks more like, well, a router? (Hey, we thought routers were sexy all along.)