News
Stay informed about the latest enterprise technology news and product updates.
Kensington MicroSaver Alarmed Computer Lock review: Will it protect your laptop?
After watching this video on how to pick a tubular Kensington lock with a toilet paper roll, I had some serious doubts about my laptop's safety:
Had I watched this video when I forgot the keys to my Kensington MicroSaver Alarmed Computer Lock — generously given by CableOrganizer.com for review — I might have saved myself from disassembling an office desk with a screwdriver. Let me explain…
The laptop locking gaffe
Being a remote worker left little opportunity for me to truly test the Kensington MicroSaver Alarmed Computer Lock. Sure, I could see how my laptop looked chained to my home office desk, but that wouldn't have made for a very exciting blog post.
Shortly after I received the lock in the mail, did I coincidentally take a trip from the U.S. to the U.K. to put it to the test. Packing proved that the wire of the Kensington lock is not very flexible; you have to really work at coiling it up to fit it in small spaces. For those traveling, I'd recommend either not fitting it in small places or quickly wrapping it up with a few twist ties before it springs back on you.
***
When I set foot in the U.K. office, I was given the go-ahead to occupy the desk of a man who was absent. I started a file transfer over my corporate VPN towards the end of that day, in what seemed like minutes before my ride back to the hotel rushed into the room demanding I leave now.
"I can't go," I said.
They scratched their head.
"My progress bar says there are two more hours left for this file to transfer, and I need this downloaded before tomorrow morning," I explained.
They clearly weren't going to wait for me.
"Could I leave my laptop here?" I pleaded.
That was fine with them, and just as well for me since it gave me the chance to legitimately test my Kensington lock for review. I threaded the lock between a leg panel and table top — half-hoping the late-working employees or maintenance men would try to take it over night. Would anyone tamper with it? Would I hear the alarm sounding outside the brick walls of the building the next morning?
***
When I arrived the next day, it's what I didn't find that started the panic. I walked into the office to find the desk already occupied. The man (who didn't know I was borrowing his space) was already working at his desk next to my laptop, which was locked to his table. Imagine my face when I obligingly went to his desk to remove my laptop only to realize I had left the keys miles away at my hotel!
After some debate, and nervous laughter on my part, one employee said we should take the desk apart. It was a three-man operation: One person did the unscrewing; another held the desk panel as it fell; another held the table top so that it, too, wouldn't fall. Once the bolts were unscrewed, the man under the desk un-looped the lock from its offending location, and back together the desk went.
Attempting to pick a Kensington lock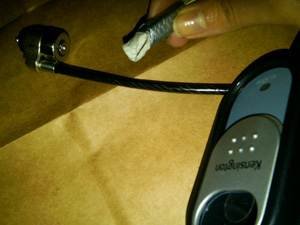 It wasn't until I returned to the states weeks later that I discovered the video. I had to try hacking it of course, but the lock wouldn't open. I blamed it on having an inferior toilet paper roll (if there is such a thing), or my lack of utility tape. I first tried with scotch tape, then started over using duck tape. Every time I attempted to pick the Kensington lock, I ended up with a mutilated piece of cardboard (shown right).
Maybe the Kensington MicroSaver Alarmed Computer Lock has better security than the one in the YouTube video — or maybe I lack the lock-picking finesse of the demonstrator. Either way, it brought me to a broader conclusion of laptop security.
Secure laptops like you would your network
A security expert once told me there's no such thing as perfectly secure data. If you wanted zero risk of data being stolen, you would have to keep your data off networks altogether. Network security offers prevention and protection methods — but they won't be 100% safe.
That's why security needs to come in layers. Enterprise network security expert Michael Gregg explains the concept of network security defense in depth in this expert response. Just as your network can't have only a firewall, or only anti-virus, your laptops need defense in depth to slow down corporate crackers. Password protect laptops; add laptop tracking software; figure out stolen laptop recovery if it ever gets that far.
CableOrganizer.com talked about seven ways to prevent computer and data theft by using all of these physical computer security products:
a USB port block
a laptop lock
a USB fingerprint reader
a notebook privacy filter
an anti theft PC security stand
a laptop lockbox
a CPU security cabinet
While not each and every security product is likely needed for every laptop — the idea of securing in layers is essential to any network, laptop or mobile device.