News
Stay informed about the latest enterprise technology news and product updates.
Japan's high-speed Internet satellite to keep network connected despite Godzilla rampage
Japan is so cool. Granted, I've never been there, but I've been appreciating sushi, Hello Kitty, Akira and karaoke for many years now. Much like the rest of America, I'm considering a Honda as my next car purchase instead of a domestic model.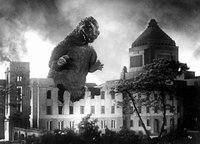 Another reason Japan is beating the U.S.? While our cities quibble over getting FiOS into poor neighborhoods along with the rich ones, Japan — where they already have fiber optic cable in most cities — just launched a satellite to provide high-speed Internet to all of the country, including rural areas.
The satellite, named Kizuna, will "allow super-high speed data communications of up to 1.2 Gbps, which would make it the fastest in the world," according to Yahoo News.
Kizuna is said to also be designed to provide connectivity in case of problems with the terrestrial infrastructure, such as would result from an earthquake… or, one would hope, giant monster attacks.