News
Stay informed about the latest enterprise technology news and product updates.
Interop attendees upbeat, but focused
While walking the expo floor at Interop Las Vegas this week, I was pleasantly relieved to see that the gloomy economy has not dampened the spirits of the networking industry. Although I have heard rumors that show traffic is down, it looks pretty healthy to me (certainly a far cry better than any of the New York events). And the mood is upbeat. In fact, several conference attendees have expressed to me their belief that the economy has "turned the corner" and they are thinking about what comes next.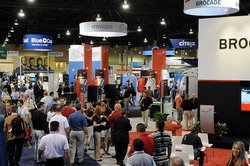 A survey conducted by vendor Network Instruments at the show seemed to validate that. Of 100 network engineers and IT executives interviewed, the survey found that 67% of respondents had not experienced layoffs in their IT departments in the past year, and 31% are continuing to roll out new technologies.
Of course, you have to assume that in a down economy, the attendees that make it to a conference are the lucky ones working in IT departments that can still afford to send their staff to events and investigate new products. But I was heartened to see that there were a significant number of these folks in attendance, and they were very interested in up-and-coming technologies, not just the tried-and-true stuff.
The bottom line has changed, however. While 10 and even five years ago, IT pros might have delved into a technology for technology's sake, that's unspeakable today. I would hazard to guess that every Interop attendee had the same ultimate goal in mind: saving money via technology and achieving ROI for their IT investments.
That's driving a lot of what networking pros have come to Vegas to learn about: virtualization, unified communications, cloud computing, 10 Gigabit Ethernet. These technologies are new ways to collapse more services onto one infrastructure, doing as much as possible with fewer devices and fewer people. While there may be an investment up-front, the long-term savings can be monumental if you plan correctly.
Attendees told me they are re-architecting their data centers, building out telepresence to cut back on travel budgets, and installing only wireless connectivity in branch offices, among other innovative ideas. The IT pros here are learning to think in whole new ways, and that makes them doubly lucky. Maybe we'll hit the craps table this afternoon.