News
Stay informed about the latest enterprise technology news and product updates.
IEEE celebrates 125 years, not just for engineers
I am thankful for electricity.
That's what I said last Thanksgiving, and I'll say it again now. Without electricity, we'd have been sitting in the dark, eating turkey roasted over a spit. I'll come back to this point in just a minute.
On Monday evening, I attended an event at the Waltham, Mass. Westin celebrating IEEE's 125th anniversary. One of the themes of the presentation by IEEE president John Vig was the idea of celebrating the many contributions engineers and scientists have made towards a better world. Anothe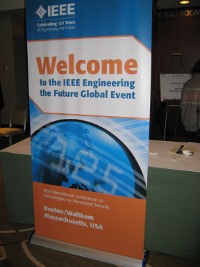 r point Vig emphasized was the fact that IEEE has expanded far beyond its original focus (on electrical engineering) and now includes not only electrical engineers but also computer scientsts and IT professionals, physicists, materials scientists and even medical doctors. Vig said that the spelled-out version of its name (Institute of Electrical and Electronics Engineers, Inc.) "no longer serves the organization well," so now they just go by the letters IEEE.
Vig also showed a video — "One voice for engineering, communication, technological innovation" — that featured a number of IEEE members speaking about the scope of technological innovation and the importance of IEEE. Vint Cerf, featured prominently, said "Everyone using the Internet is making use of an IEEE standard."
Vig was followed by William Kiczuk, Technical Director of IDS at Raytheon. Kiczuk spoke on Raytheon's "significant new thrust in cybersecurity," specifically through project Athena, a network-centric control, communications, computers, intelligence, surveillance and reconnaissance system. (Hmm, network in the weaponry, and it might turn into Skynet!)
The Raytheon portion of the presentation was aligned thematically with the concurrent Homeland Security Conference. There was not a huge network security presence at what I saw of the conference, but there was some fascinating technology and a poster session on homeland security. Most of the content revolved around detection and prevention or first response and communications in man-made or natural disasters. showed me the "Hazmat Cam," an analog wireless video camera for first responders. The camera operates on an FM signal and transmits to an array of three antennas so the signal can be received despite thick walls and other barriers.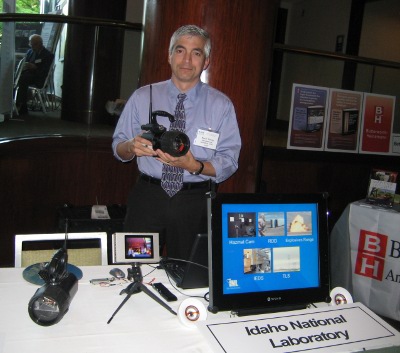 As I browsed some of the conference posters, which covered everything from gamma ray detection to biological weapons to school shootings, I started thinking about how the Internet can be good and bad when it comes to emergency communications. On one hand, you have the recent case of social networking (specifically Twitter) spreading a lot of confusing, inaccurate FUD about swine flu. As one of the posters at the IEEE event pointed out, with flawed communications systems, "the response may become a crisis itself."
On the other hand: Last Friday, a huge damaging wind storm blew through Southern Illinois, where I grew up. The storm, being called an "inland hurricane," knocked down trees and power lines, destroyed roofs and gas station canopies, and tied up traffic. It didn't make the national news and nobody around Boston has heard of it. I actually found out about the storm via Facebook: My friends who have moved out of the area began posting updates about the status of the storm and communications with their families. People were unable to get through on the phone in many cases. So social networking turned out to be a very helpful source of information. (Interestingly, I obtained the storm info link from my friend Scott, who was able to get online using his car inverter and cell phone, which he uses for storm chasing.) [UPDATE: Here are some photos of storm damage in Carbondale, IL.]
Over the weekend, my family took cold showers, cooked eggs on their propane grill and threw out all their spoiled frozen food. Now, Southern Illinois has just begun to get power — which means my mother can resume taking hot baths and watching John and Kate Plus Eight reruns. But more than four days without electricity is brutal! And these conveniences — readily available electrical power and hyperconnectivity via Internet — make me even more thankful for the contributions of engineering and science.
Happy 125th anniversary, IEEE!