News
Stay informed about the latest enterprise technology news and product updates.
Green networking: Save money and energy while you help the planet
One half gallon of my favorite mint chocolate chip ice cream, with chunks of fair trade dark chocolate and no fake green coloring, from the family-owned organic dairy farm in my town: $7.99. Dolce & Gabbana bamboo fiber blouse that looks so cute on Cameron Diaz in Us magazine: $260. SkyStream 3.7 residential windmill, producing 400 KWh of electricity per month with 12 mph average winds: $12,000. Knowing that you're doing all you can to make ecologically responsible decisions and saving the planet from incinerating to dust before your great-grandchildren are born: Priceless.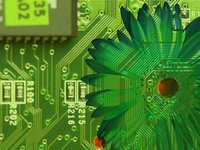 I confess I am a tree-hugger at heart. And while I would like to get completely behind the green movement and drive a hybrid car, renovate my house in sustainable materials, and buy only organic food, I just can't afford it. Unfortunately, "green" has become big business for some companies selling cosmetics, clothing, and food — and blindly buying those products without needing them harms the environment more than it helps. So I pick and choose things I think are most important when it comes to spending money and try to concentrate on conservation and savings instead. I recycle everything I can, try to minimize driving, and wear a lot of sweaters so I can keep the heat low.
In IT, the same principles apply. Vendors are pushing green initiatives down your throat for the sake of having green initiatives. You need to consider the options carefully, so the editors at SearchNetworking.com have produced a special report on green networking to help you do just that.
You'll find several articles on saving money and power, including How green is my network? — A look at the cost-savings benefit of green IT, in which columnist Rich Ptak takes a very pragmatic (and a tad anti-tree-hugger, IMHO) approach to analyzing your equipment and usage and finding ways to make smart upgrades that can save dollars in the long run, depending on your specific needs. You'll also find several great articles detailing which types of routers, switches and PoE equipment use the least amount of energy.
In addition, the report features sections on selling green IT to your executive team and the benefits of unified communications for green initiatives. To get a running start on going green in your own network, you can also download the pdf Craft a green IT action plan.
And don't miss the podcast on recycling and energy saving techniques for mobile devices, which includes tips on saving battery life as well as how to recycle old devices and computer equipment, a perennial issue in IT.
So celebrate Earth Day today by visiting the green networking special report. We hope it will put you on the path to saving money, saving energy and saving the planet, all at once.