News
Stay informed about the latest enterprise technology news and product updates.
Geek Squad vs. Sex and the City
Sure, Carrie Bradshaw was mystified when her Mac died, but that's no reason to hate on Sex and the City.
As much as pop culture may have you believe that the worlds of beauty and brains lie as far apart as Mars and Venus (Ashton Kutcher's television "social experiment," Beauty and the Geek, comes to mind), the truth is that the world is made up of plenty of geeky girls and eye-candy boys — and individuals who defy stereotypes and combine the best of both worlds. And one of the lessons from Sex and the City (if you can believe an HBO comedy would have a lesson) was that love can come in many unexpected packages, from Carrie's Mr. Big to Charlotte's true love — short, bald, sweaty and hairy-backed Harry Goldenblatt. Carrie even once dated a comic book guy… though he looked more like an indie rocker than Jeff Albertson.
Of course, that doesn't mean that a few geeks won't gag a little at the mention of tomorrow's Sex and the City opening.
Nobody expects computer nerds to get giddy about satin pumps or the latest trends in foil highlighting. Leave the differential equations to the geeks and the eyebrow waxing to the so-called beauties, because if they try to swap, the results are not good — that's the kind of thing that makes Beauty and the Geek entertaining. For that matter, I don't even think the majority of men or many women care about that stuff.
But I do like to rail against the stereotype that women just can't gr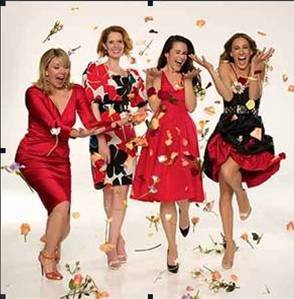 asp technology (or that geeky people can't also be pretty people, if they want to). So when I got an email from Ketchum PR this afternoon announcing an anti-Sex and the City promotion with Best Buy's Geek Squad, I decided to have a little fun.
The email started off with a typical publicity shot of the four Sex and the City ladies with the caption, "IF THIS PHOTO UPSETS YOU, READ ON." It followed by saying, "Sure Sex and the City will be adored by fanatic females that sip cosmos, adorn Manolos and look for their Mr. Big to get them out of credit card debt, but what about the unfortunate men that get dragged to this film?"
It went on to explain that Geek Squad agents will be handing out promotional packets at theaters in New York, Chicago and LA. The packets will contain four quarters and a list of excuses, so the geeks can run away to the safety of a video arcade. (Good luck finding that arcade, or an arcade game that runs for just four quarters!)
They also sent Geek Squad agents on the NYC "Sex and the City tour" to "become experts on the show." The video is pretty amusing:
Here was my reply. I hope geek girls everywhere are vindicated.
Your email message was more offensive than the photo — what about men who *like* Sex and the City, or females who don't like it, or the masses of well-rounded people who actually enjoy (gasp!) both their Manolos AND Mario Bros.? Can't I have my cosmo and play arcade games? And, incidently, I'll take Tony Stark to ease my debt over Mr. Big any day.

– Amy Kucharik, tongue firmly in cheek.
(In retrospect, I should have said that I'd rather be Tony Stark than have Mr. Big rescue me from debt.)