News
Stay informed about the latest enterprise technology news and product updates.
Cisco's new CTO
Cisco announced tonight that it has a new CTO. She is a woman, and she has one of the coolest names on the planet: Padmasree Warrior. Warrior was formerly CTO of Motorola. She worked at Motorola for 23 years, and, when named CTO in January 2003, became Motorola's first female executive vice president.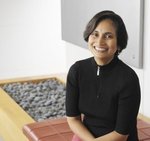 Warrior was the creator of the Motorola-hosted blog, "Bits at the Edge," which was unfortunately but understandably shut off at her resignation this week. The blog was extremely insightful and read avidly by technology enthusiasts around the globe. In it, Warrior examined technical innovations from sometimes surprising angles and mused about the effects they would have on their respective industries and on the people who used them.
Cisco is a smart company and already has a blog post up from Warrior in its heretofore lackluster corporate blog, The Platform. She writes a fairly generic welcome piece about how Cisco is poised to take on "the next wave of Internet evolution" and she is happy to be joining them. Let's hope that she's just testing the waters and that Cisco provides her with a true "platform" and free rein to explore and interact with users and customers about issues and concerns that really matter to them.