News
Stay informed about the latest enterprise technology news and product updates.
Cisco's collaboration strategy: Adding vision to social networking
Cisco chairman and CEO John Chambers welcomed attendees of Cisco Live 2008 (a.k.a. Cisco Networkers) at his keynote address in Orlando Tuesday morning with the message that the network will become the platform for all communication, and that Cisco will be the leader in providing the connectivity.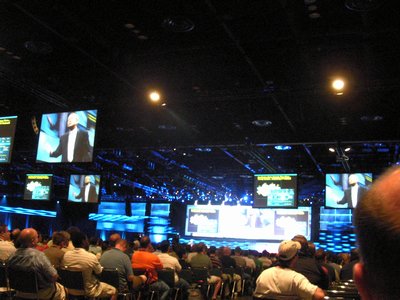 After an opening segment with loud music, colored lights and 11 screens displaying attendees' favorite sports teams (on which they "collaborated" via text message), Chambers got down to talking about Cisco's ability to stay abreast of market transitions. He explained that Cisco will leverage their position as the market leader to facilitate "any device, any content" communications and collaboration, which he sees as the market transition that is happening now.
Major components of this collaboration scenario, according to Chambers, are social networking and video — in fact, he said that "visual networking is the future." But Chambers said Cisco plans to add vision to social networking, putting structure behind Web 2.0-type tools like Twitter or Facebook (he alluded to the way "kids" use social networking tools here), validating their use as business tools.
A highlight of the session was the demonstration of WebEx Connect and how Cisco's latest and greatest collaboration technology (brought about by Cisco's recent WebEx acquisition) will enable us to communicate differently. Jim Grubb — jokingly dubbed "chief demonstration officer" — joined Chambers on stage for the demo. They showed off one-touch meeting functionality and something called "casting," which I captured in this short video.
Chambers reiterated the theme of his March VoiceCon keynote that the focus of online video collaboration (a.k.a. telepresence) is not only about cutting down on travel costs or "going green" by reducing associated emissions, but also, and more importantly, about changing business models to increase productivity.
As proof that Cisco is eating their own dog food (so to speak), Chambers gave some statistics about the growth of social networking use at Cisco, including blogs, wikis, discussion forums, and something called C-Vision, which he said was like "YouTube for the Enterprise." (Later in the day, Chambers also answered user questions online in Second Life, underscoring his company's interest in using social networking tools for business. Somewhat ironically, a glitch in the program made Chambers' avatar's virtual pants render as sort of an "image loading" error message.)
Other prominent themes of the keynote were Cisco's focus on innovation, as evidenced in their I-Prize program, and on virtualization — not just in the data center or server, Chambers said, "virtualization in everything you do." An example of this was Cisco's virtual launch of their ASR 1000 product.
Of course, I'm always skeptical, and wondered whether the network having to deliver all communications is really going to be such a good thing. One, there's the increased reliance on technology — which, let's face it, no matter how good Cisco makes the product, can still fail. Two, there's the problem of user integrity; virtual tools only work really well when users take the time to create fully-fleshed out profiles and enter all their contact information — and social networking tools enable the delivery of not just productivity, but lots of twittering about our cats, poking and ROTFLing. Then again, I'm not so sure that's completely different from real life collaboration.