News
Stay informed about the latest enterprise technology news and product updates.
Cisco certifications aren't what they used to be
We knew the economy was bad, but did Cisco really have to drop their impressive medallions for plastic plaques?
Arden Packeer, CCIE 20716, blogged the run up to his CCIE: Routing & Switching exam, posting tutorials and regular progress updates as he went. After months of preparation, he posted that he was "deliriously happy" when he finally passed.
Two days ago, when he received his certification by mail, those feelings were slightly less warm:
Seriously, Cisco, the new CCIE Plaques suck!

We pay $1400 a pop for the Exam (not to mention countless hours of blood sweat and tears), surely Cisco can make the prize at the end a little better than this!
Compare Arden's plaque: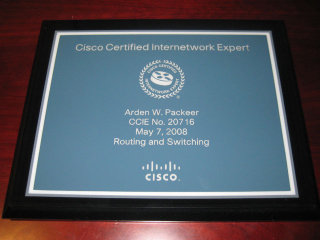 and the older medallion style, courtesy Greg Ferro's blog, Ethereal Mind: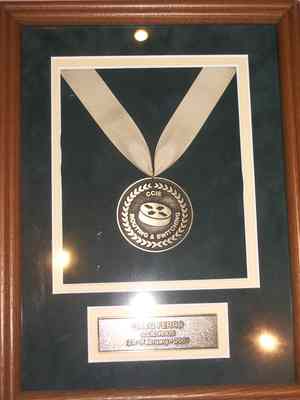 We can sympathize with Arden, but apparently he's a few years too late to rock the medallion. We asked Peter Koht, who works with Learning@Cisco's public relations, if the older models were still available, and this was his response:
Hi Michael,

According to the folks I asked over at Cisco, the original CCIE award/plaque was a medallion at the
end of a ribbon in a shadow box format.

This was retired out at least 5 years ago and replaced with the plaque, which is on it's second iteration.

The medallion is no longer offered.

Hope that helps

Best,
Peter
Sorry Arden, but maybe a petition can get Cisco to change their mind. Think of all the great publicity certifications would get if people started wearing their medallions when they went out? Maybe there could even be some product placement with Mr. T: Imagine him adding some CCIE bling and shouting, "I pity the fool who don't know Cisco." I think it could be a win-win all around, and would help give those hard-working Cisco studs the recognition they deserve.
Further Reading: