News
Stay informed about the latest enterprise technology news and product updates.
Cisco certification product giveaway
In light of Cisco's Unified Computing announcement — and to coincide with the wrap-up of IT career and training expert Ed Tittel's Cisco Press giveaway, we thought now would be the perfect time to run yet another Cisco certification contest. In the event you missed Ed's contest, there is still time (until April 1) to redeem yourself.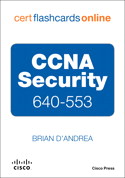 As it is the first day of spring, SearchNetworking.com would love to spring for your certification training material to help you in these tough economic times.
What type of material, you ask?

Six CCENT 640-822 Network Simulators

Two CCNA Security 640-553 Cert Flash Cards Online
Since these network simulators and flashcards are online, this means we can finally open up our contest to SearchNetworking.com members outside of the United States!
As IT Career JumpStart blogger, Ed Tittel, writes In today's job market, prospective employers want it all:
An abundance of candidates to choose from means that employers can become extremely selective about whom they'll bring on board to fill open positions…That means advanced degrees, serious certifications, and lots of direct relevant experience are what it takes to get through the door and on board these days.
If you find yourself lacking in any of these areas, now's the time to go to school, keep working (or volunteering if you don't have work), and start adding certifications to your resume. And we would like to do everything in our power to aid you with the certification process.
If you can follow these two steps, you can qualify to win the Cisco certification product of your choosing.

Contest Details:
First: Post to our blog (by clicking on the "comment" link at the bottom of this post) with responses to the following 5 questions:
What is your job title (if you are a student or not working just write "full-time student" or "unemployed")?
If applicable, what type of business do you work for?
What TechTarget websites do you use?
What do you use that site for?
What are your biggest work-related challenges?
Second: After you post your entry, send us an email so that we can contact you if you win. Make sure to include:
Your blog comment username
Your exam of interest (either the 640-822 or 640-553, but not both, please)
We're giving you until midnight of April 1 to respond. Contest winners will be chosen by Ed Tittel who will guest post for us on April 2 with the contest results.
Good luck to all, and thanks for participating!