News
Stay informed about the latest enterprise technology news and product updates.
Bizarro VoIP: Is it evil? Do you care?
Recently, Tom Keating at TMC wrote in his blog about Digium acquiring Switchvox, a proprietary Asterisk-based VoIP solution. Keating had interviewed Asterisk inventor and Digium CTO, Mark Spencer, who explained that one of the goals of that acquisition was to assimilate some of the proprietary technologies from Switchvox back into open source. Keating remarked:
I recalled Mark Spencer's IT Expo keynote where he espoused the benefits of truly 100% open source solutions and how this contrasted sharply with some of Digium's competitors such as Fonality. Again, Mark called hybrid-open/proprietary solutions "evil." I couldn't help but think of Digium vs. Fonality as Superman vs. Bizarro. Who is Bizarro and who is Superman I leave for you to decide…
One month ago, at TMC's Internet Telephony Conference & Expo in Los Angeles, I had the pleasure of meeting Mark Spencer. Unfortunately, I had missed the relevant part of Mark's keynote, which (fortunately) Greg Galitzine summed up nicely in his blog:
[Spencer] mentioned the evolution in the open source world, where things have gone from a simple "good versus evil" debate (open source vs. proprietary) to a complicated new world where we find open source (good) fake open source (bad) proprietary open source (evil), and even proprietary hybrid hosted (really evil).
Naturally, being drawn to all things evil, the next day at the conference I met with the dark lord of the open source PBX world, Chris Lyman. OK, Chris isn't actually evil (to my knowledge) — he's the CEO of Fonality. Fonality, one of the "proprietary hybrid hosted" companies makes low-cost phone systems — according to Lyman, their Trixbox platform is the first and biggest built on top of Asterisk code.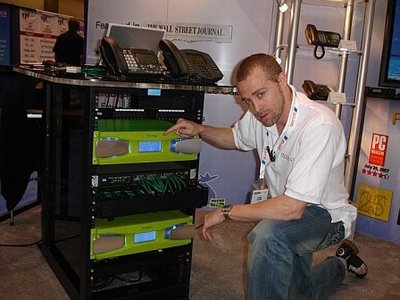 Chris Lyman shows off the trixbox appliance with a tricked-out case mod.(And it's green, too…)

According to Fonality's website, being a hybrid-hosted phone system means that the free software is first downloaded by a business and installed on a local computer and local IP phones. After this step, the local computer connects to the Fonality network where server health, call quality and usage are constantly monitored. The hybrid-hosted nature of trixbox Pro also securely extends the phone system outside the corporate firewall, so an employee's extension can follow them when they work from home, remotely on a laptop, or even on a mobile phone. (Thanks to Alicia diVittorio for tracking down the definition.)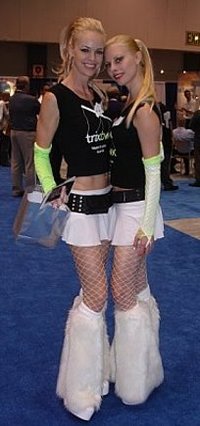 Sounds like a pretty good arrangement, especially for SMBs who may not have the resources on staff to manage a premise-based solution. In a tip on SearchVoIP.com, Yankee Group senior vice president Zeus Kerravala advised companies:
Even if you're a predominantly do-it-yourself IT organization, consider a hybrid environment where the hosted services are used for some of the smaller branches and telecommuters. This will probably scale much more easily for you as you move more locations over to VoIP.
What I'm trying to figure out here is why the proprietary hybrid hosted model is "really evil," and I can't seem to track down Mark Spencer to comment. (Hey Mark, if this is a secret alter ego thing, I'd be just as happy to talk with Superman!) Personally, I've been a proponent of open source for some time now. I understand the benefits of encouraging innovation and avoiding vendor lock-in and lowering per-port charges. So, is Fonality locking in their customers? Are they corrupting open source ideals? Will they stifle innovation? Will mixing open source and proprietary code cause an explosive reaction, like encasing Kryptonian crystal in green kryptonite?
And, despite all this, "Most of the people buying the phone systems in the SMB space don't even care if it's open source," Chad Agate, Co-Founder & CEO of NeoPhonetics, a Digium partner, said during a conference session on "Selecting an open source VoIP solution for the SMB."
When I asked Lyman about the whole "very evil" issue, he pointed out that Digium has their own tricky issues and aren't as pure as the driven snow when it comes to open source and their "Digium Waiver" (Read xrobau's blog on Fonality and the GPL for more about that.)
"This shouldn't be a war of the Davids; the Davids should join forces and take on Goliath, which is Cisco," Lyman said. "Fonality and Digium don't equal one half of one percent of U.S. PBX market share."
Hmmm…
Related stories from TechTarget: