News
Stay informed about the latest enterprise technology news and product updates.
BT IP Clear Playbook for UK IT Management
US readers will no doubt tune out but wait. Although BT IP Clear is a UK based service, the technology refers (as a rule, there are exceptions) to unmanaged connectivity from BT. The US market is largely unmanaged vs the UK's preference for managed services when procuring WAN connectivity. So, take a read through and compare a flagship UK product vs your US service provider capability. BT are no longer using BT IP Clear as a product name but the majority of IT Managers still refer to their wires only product using this brand reference. BT IP Connect is now the flagship product which also includes a wires only version together with fully managed routers where required, both Global and UK. Within the rest of this article, we'll talk generically about the BT IP Clear capability.
Reach and Diversity for failover – BT's national coverage of Provider Edge (PE) devices to terminate your circuits
SLA – The national latency, jitter, uptime and install figures
Circuit types – From Gigabit Ethernet through to ADSL
Other services – cloud, SIP and remote access
We have been spending a substantial amount of time over the last 18 months improving and honing our WAN procurement content. In some respects, this work is slight selfish since we are, in tandem, documenting our own sales process. Our original WAN Mindmap was generic and contained the pitfalls, risks and opportunities associated with MPLS & VPLS procurement. It is still, by far, our most requested content. Good news – when we embarked on the BT IP Clear version, we really wanted to create something which would specifically detail the procurement process as it relates to a particular product. The IP Clear service is generally positioned as wires only product and therefore attention should be paid to the attributes of a self managed service.
Reach
BT's MPLS network is known to be well engineered and essentially covers the UK and, in the case of Global Services, the rest of the world. Gartner recently announced BT would remain within their magic quadrant because of their capability to serve global Enterprise clients. You may be forgiven for wondering how BT Global MPLS has anything to do with the BT IP Clear UK product? The same resources and investment is put into the network as a whole. As the global network evolves, so does the UK capability which increased bandwidth and presence with POP's (Points of Presence) becoming more wide spread adding diversity and performance increases. If you ever read BT product description, the capability also mentions global reach. This said, IP Clear has always been associated with UK coverage. However, it is possible to procure a UK VPN from BT and connect international sites at a later date should your organisation grow by acquisition.
The following map details existing coverage in the UK.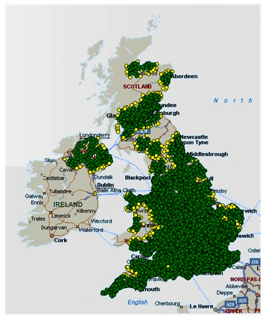 It's pretty easy to notice that the UK is well covered. Ultimately, this means your sites have less distance to travel to the nearest point of network entry. This not only reduces costs but also has the added benefit of diversity choices and the best possible latency.
The more PE nodes a provider has, the easier it is to create a diverse network. Within the generic procurement Mindmap, we always advise asking any potential provider for their true PE coverage as this will demonstrate your ability to create diversity and also demonstrate the providers true MPLS capability which is often covered up by marketing.
Let's look at an example.
The BT Secure Plus product is designed to avoid any single point of failure. With full diversity, two routers will be configured running HSRP (Hot Standby Routing Protocol) or load balanced depending on your requirements. (Being self managed).
From the routers, BT will look to use two different points of exit from the building. Whether or not this is possible depends a) whether two points of entry exist and b) whether or not there are any restrictions on the building from the perspective of creating another entry point. Once the circuits leave the building, diverse paths will be attempted to ensure seperacy is maintained with dual BT local Exchanges used where possible. From the exchange, the circuits will ultimately arrive at dual BT Provider Edge POP's.
As an MPLS network can carry both your voice and data traffic, you are effectively putting all of your applications under one circuit without diversity. Although you can achieve economies of scale by using MPLS a reliable service becomes essential or any savings you make by using the technology can quickly be eroded via productivity losses in the event of failure. By having so many POPs in so many key business locations BT can provide that piece of mind that we can reach a resilient POP sooner than any other provider in the UK.
Circuit types
There are a number of different ways to access the network, including connectivity from 1Gbit/s all the way through to standard broadband. One of the clients we are working with now are using the IP Clear ADSL product across 106 sites, only two of them are fibre based leased line products. There is a mix of availability with regards to DSL from standard ADSL2 through to FTTC (Fibre to the Cabinet). In terms of site issues, there are only 3 of the sites which are suffering from poor performance due to the locations being remote. BT are able to check site addresses to understand the kind of performance you will experience in the real world. The actual performance has been pretty good in terms of latency, here's a live ping from the network which includes the LAN from HQ to a site connected via DSL:
Success rate is 100 percent (5/5), round-trip min/avg/max = 20/20/24 ms
CE_Router#ping 10.10.165.254.254 .254 0.254
Type escape sequence to abort.
The performance of the above ping is more than good enough for VoIP (SIP) based services and mission critical applications. The upstream bandwidth may potentially become an issue over the longer term but, for now, all is looking good.
Lower cost fibre access direct to your site
EFM access, aggregating copper pairs (telephone lines) to offer a single Ethernet service with built in resilience and a lower cost compared to fibre
ADSL2+ integration as an access technology onto our WAN services
Superfast access through Fibre To The Cabinet (FTTC) and Fibre To The Premises (FTTP)
EMF and GEA access providers
BT IP Clear SLA (Full granular figures are included within the Mindmap)
The SLA is a commercial agreement, we always suggest organisations never design based on SLA figures and NEVER commit to the business that circuits will always perform to SLA parameters.
This said, the SLA will provide you with a good overview of predicted performance. If we know that traffic across the UK POP to POP will perform on average Xms depicted within the SLA, we are at least able to consider worst case performance. In general, latency performs better than projected SLA figures since they are always set as a monthly average.
The uptime guarantee is perhaps the most useless of all, in my opinion of course. (Not BT's by the way, just SLA's in general). For years we have seen figures of 99.9% as the standard for fibre based leased line connectivity. The fact remains that the SLA is of little comfort if your site is down and falls outside of these amazing averages. In this sense, it is important to design uptime based on the specific requirements of that site. The IP Clear product allows you to ensure services are built to maximise both productivity and performance regardless of the SLA figure.
Other Services
Clearly the WAN is an enabler to additional services such as the cloud and SIP. BT provide a number of different cloud based options for managed services which include hosting and colocation. These services may not be as applicable for clients looking to buy IP Clear self managed IT infrastructure but it possible to create a hybrid of services. Access to SIP is a possibility by two methods. The first involves separate access using a BTNet leased line.
The other alternative is directly via the MPLS platform. However, the BTNet variant is a much easier product to implement since the product allows interface into existing ISDN-2 or ISDN-30 circuits – a Samsung device converts ISDN to IP. However, if true end to end SIP is required, access will need to be via the MPLS platform.
BT IP Clear Pricing
We are finding that project we are working on are producing some excellent commercials. As an IT Manager, you need to be aware that any project will likely yield better savings and costs when the requirements are fully outlined. The special pricing teams within BT are busy and therefore they take the projects with a good statement of requirements more seriously than those which consist of a spreadsheet and bandwidths.
Our senior designer has Distilled everything we know about BT IP Clear procurement into one of our single step by step A2 Mindmap. We borrowed some of our Techtarget MPLS VPN procurement workflows and essentially layered on the specifics of IP Clear service from the perspective of reach, latency, QoS (Quality of Service), fix times, uptime, change requests and additional BT products which interface into the capability including SIP and Cloud.