News
Stay informed about the latest enterprise technology news and product updates.
Arrgh! Acquisitions and attacks on the high (tech) seas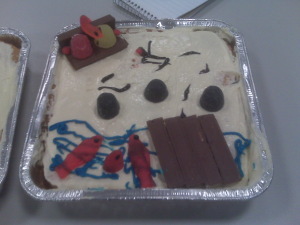 Ahoy! Just in time for our Talk like a Pirate Day blog post (what's a weekend late among old salts?), we hear tales of treachery and triumph, of bold moves and dastardly deeds.
First, matey, is the tale of Cisco's Jabber acquisition. Why would the world's dominant networking gear provider buy a second-tier IM platform? While you may not actually know anyone who uses Jabber, the Extensible Messaging and Presence Protocol (XMPP) Jabber is based on has seen quite a few fans, not the least of which is Google which has embraced the protocol for its Google Talk instant messaging platform.
As Cisco continues to make good on their promise to put structure behind Web 2.0-type tools, Jabber is a good place to start: A widely accepted IM standard heartily approved by the geek crowd which also gives enterprises the control they want. And some are also seeing it as a shot against frenemies Google and Microsoft, like the National Business Review's summary:
IM gains more respectability with the announcement over the weekend that networking giant Cisco will buy Jabber, whose software allows users of rival freebie IM programmes, such as Apple's iChat, Google's Talk, Microsoft Windows Messenger and Yahoo Messenger, to interact with each other, plus send messages to commercial grade programmes such as Microsoft's Office Communications Server.
The article title was even more direct: Cisco guns for Google, Microsoft with Jabber buy.
On a more swashbuckling note, Aruba's taking aim at Motorola, counter-suing the company for patent infringement:
"The first asserted patent was assumed by Aruba in March 2008 as part of its acquisition of AirWave Wireless Inc., while the second asserted patent was issued to Aruba in May 2008," the company said, adding that it is seeking a permanent injunction against use of its patented technologies as well as monetary damages.
The WLAN market is treacherous waters, as we've reported before, so we don't expect this back and forth end until one or the other goes to Davy Jones locker.
Image: SearchNetworking's belated Talk like a Pirate Day cake.