News
Stay informed about the latest enterprise technology news and product updates.
Are Cisco knockoffs a modern Trojan Horse?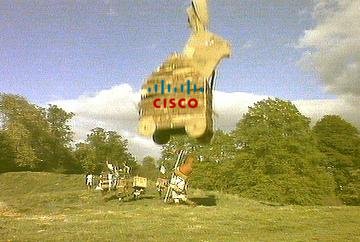 So it's not exactly breaking at this point, but scary nonetheless: The FBI's Operation Cisco Raider has led to a number criminal cases involving counterfeit Cisco products bought by military agencies and contractors, according to the New York Times.
What's so worrisome? Knockoff handbags and even iPhones aren't a direct security threat, but fake Cisco routers might be, as the Times reports:
The potential threat, according to the F.B.I. agents who gave a briefing at the Office of Management and Budget on Jan. 11, includes the remote jamming of supposedly secure computer networks and gaining access to supposedly highly secure systems.
Cisco says we're safe this time, and the counterfeiters' motives are a little more pedestrian:
"We did not find any evidence of re-engineering in the manner that was described in the F.B.I. presentation," said John Noh, a Cisco spokesman. He added that the company believed the counterfeiters were interested in copying high volume products to make a quick profit. "We know what these counterfeiters are about."
Today, it might (hopefully) be about making a quick buck, but an Ars Technica article underlines some of the Pentagon fears about of so-called "Manchurian chips":
There is no question that the technological infrastructure in the United States is under siege. We have seen a steady litany of attempted intrusions originating from abroad, most likely perpetrated by a mix of foreign governments and organized crime groups. An emerging concern is that the same agents behind those cyber-attacks could also have access to the chip fabrication facilities that make the components used in US military technology. Researchers say that virtually undetectable kill-switches and backdoors can be built into any of the countless integrated-circuit chips used in mission-critical military hardware systems.
So what can you do to make sure your own equipment is genuine? Not a whole lot, it appears. Amy browsed some forums for tips, but the best we could find was the old consumer adage: If a deal looks to good to be true, it probably is.