News
Stay informed about the latest enterprise technology news and product updates.
Anticlimactic? Juniper announcement: super-powered chipset and another rebrand
Don't get your data center hopes up. Juniper Networks is still mum on the big announcement planned for Thursday — the one executives have called the most significant in the company's 12-year lifespan. But Forbes reported last week (based on a leak) that the big release is a new chipset that will double the throughput of any router on the market (read kick Cisco's butt).
The Juniper processors – dubbed Trio — will be launched alongside a new application server with open APIs for developers to create their own apps that sit on modules alongside some of Juniper's own, including a new bandwidth optimization function according to the article.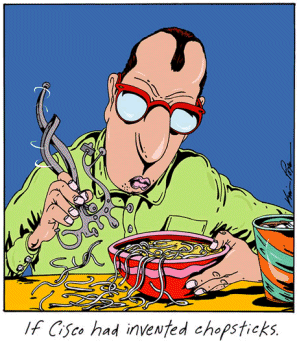 The cherry on the Sunday is yet another Juniper rebranding effort. Forbes got its hands on the new Juniper logo, which frankly is a little barebones in the pizazz department, though definitely not as strange as Juniper's old cartoon ad campaign, retired in February, that featured oddly misshapen engineers realizing Cisco had ruined their lives.
So is this all groundbreaking? Certainly beefing up the pipes to handle the ever-multiplying river of data crossing the net is crucial. And the speeds promised here are staggering. But whether this announcement is a game changer for Juniper remains to be seen. It's questionable whether companies can compete on speed and capacity alone when functionality and application delivery depend on so much more these days. It's also highly likely that competitors (yes, read Cisco again) will match the speed shortly.
Still, there may be plenty more to the announcement Thursday. We'll bring you as much detail as our capacity will allow.