Kadmy - Fotolia
Q
Evaluate
Weigh the pros and cons of technologies, products and projects you are considering.
What is the advantage of SFP ports on a Gigabit switch?
SFP ports enable Gigabit switches to connect to a wide variety of fiber and Ethernet cables in order to extend switching functionality throughout the network.
Small form-factor pluggable, or SFP, devices are hot-swappable I/O gear used primarily in network and storage switches; they allow the switch to connect to fiber cables of different types -- including single-mode and multimode -- and speeds (1 Gbps, 10 Gbps), or even Ethernet copper cables, such as CAT5e and CAT6.
Almost all enterprise-class switches include two or more SFP ports, allowing them to become part of a ring or star-based network topology spread among different buildings, floors or areas, and connected via fiber optic cabling.
In many cases, SFP ports are also known as mini-Gigabit interface converter (GBIC) modules, as they have replaced the older GBIC transceivers.
SFPs can be used and interchanged on a wide variety of products, and they can be interchanged in combinations of 1000BASE-T, 1000BASE-SX, 1000BASE-LX/LH, 1000BASE-EX, 1000BASE-ZX or 1000BASE-BX10-D/U on a port-by-port basis.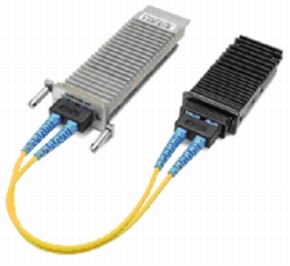 The latest in SPF modules
New SPF modules, such as GLC-BX-D and GLC-BX-U, support digital optical monitoring, which lets end users monitor the performance of SFPs in real time, tracking such metrics as temperature, optical output power, optical input power, transceiver supply voltage and laser bias current.
SFPs can support speeds of up to 1 Gbps, with transmission ranges of 10 kilometers (1000BASE-BX10-D), 40 km (GLC-BX40-D) or 80 km (GLC-BX80-D), depending on the model selected.
Newer SFP+ modules support increased speeds of up to 10 Gbps; however, not all rival SFP+ modules are automatically compatible.
Dig Deeper on Network Infrastructure
Expert Chris Partsenidis explains what iPerf is and how iPerf commands can help you measure your network's bandwidth, delay, jitter and potential for... Continue Reading
Learn how to understand the difference between bit rate and baud rate in this expert answer. Continue Reading
Expert Chris Partsenidis offers guidelines for a smooth and successful PSTN to VoIP migration. Continue Reading
Have a question for an expert?
Please add a title for your question
Get answers from a TechTarget expert on whatever's puzzling you.