Dmitry Nikolaev - stock.adobe.co
Q
Evaluate
Weigh the pros and cons of technologies, products and projects you are considering.
What does open source SD-WAN look like, and do we need it?
Open source software has an openly available source code that users can adopt or modify. Open source combined with SD-WAN might be a perfect match or a too idealistic goal.
Today's software-defined WAN, or SD-WAN, offerings already use open source building blocks in their underlying architectures. The adoption of open source in SD-WAN occurred primarily because the SD-WAN market already accepted many underlying open source components, and vendors were focused on time to market -- or the amount of time between developing and selling a product -- for this surging product category.
However, when users visualize a full open source SD-WAN product, they envision a top-to-bottom open source stack that enables a business to fulfill all its WAN management and orchestration needs in a single, open product. The holy grail of any open source SD-WAN vision is heterogeneous WAN endpoints: In this idealized situation, any endpoint could seamlessly communicate with any other endpoint regardless of the vendor or version. Yet, in practicality, this is not what most customers need from their SD-WAN.
SD-WAN is a virtual overlay to traditional WAN circuits. Instead of the conventional, static WAN configuration through command lines and scripts, SD-WAN enables a more fluid configuration that traffic, events and other outside stimuli can dynamically change. But SD-WAN needs control over both WAN endpoints to achieve this higher capability level.
Could an open source SD-WAN work?
The special sauce that today's SD-WAN vendors provide is highly dependent on having the right hooks into the underlying architecture. To take this a step further, some SD-WAN vendors may prefer having specific endpoint control to enable optimal performance of their services. Vendors may be unlikely to release unique features as open source because that gives competitors access to their differentiating capabilities.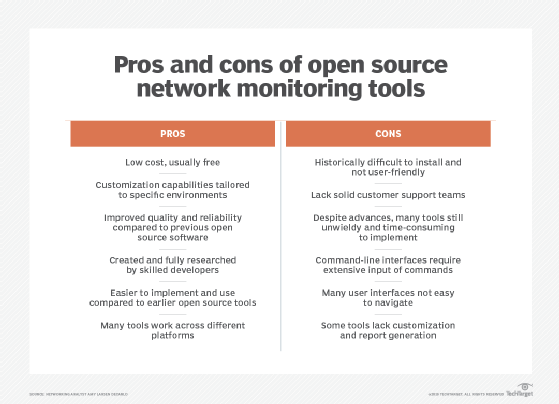 Therein lies the challenge: To make a successful open source SD-WAN, one needs to reduce the technology to its lowest common denominators. But this strategy goes against what customers are demanding from SD-WANs. The most successful products have a clear and almost proprietary advantage over the rest of the rapidly expanding competitor field through their unique feature sets.
At this point, much of the market consolidation has already occurred, as key SD-WAN providers were consumed through acquisitions. Now is the time for the largest players to slug it out for market share as SD-WAN becomes the de facto mechanism for branch office automation.
Dig Deeper on Open source networking
Cost, complexity, security, training, troubleshooting and software bugs are some of the top SD-WAN challenges. Discover more about these issues and ... Continue Reading
SD-WAN can use load balancing for WAN connections, but it doesn't require load balancing to work. Compare some of the similarities and differences ... Continue Reading
While a bridge and router share some similarities, the difference between a bridge and router is significant, including how the devices interpret ... Continue Reading
Have a question for an expert?
Please add a title for your question
Get answers from a TechTarget expert on whatever's puzzling you.