Sergey Nivens - Fotolia
Manage
Learn to apply best practices and optimize your operations.
What are the top SD-WAN management concerns?
Although SD-WAN touts improved application performance and security, some IT shops still have SD-WAN management concerns. Industry analyst Lee Doyle discusses why.
Many enterprises with distributed locations have turned to SD-WAN technology to improve their application quality of service, or QoS, and to reduce WAN transport costs. IT leaders need to be aware of several key SD-WAN management issues, including the variety of methods providers use to approach application prioritization and critical traffic, visibility into WAN circuits, and interoperability with legacy WAN infrastructure.
Enterprises of all sizes are rapidly adopting SD-WAN technology to improve connectivity among their branches and other network sites. As the technology becomes mainstream, IT leaders are turning their concerns to efficient deployment, operations and security.
Key SD-WAN management issues
The top SD-WAN management concerns can be divided into several distinct areas for evaluation. These segments include traffic management, management of WAN transport and the associated WAN service providers, security and interoperability with other WAN elements.
Application quality of service. Each SD-WAN supplier offers a different array of capabilities to identify and prioritize application performance. Because WAN traffic types range from ERP to voice and video, management can be complex. But other factors include security requirements, user location and application location -- whether the application is hosted in the data center or in the cloud. Organizations generally use the graphical management console provided by the SD-WAN supplier to help manage traffic and application QoS.
Managing multiple WAN links. Distributed organizations typically support two or more WAN connectivity types for their SD-WAN deployments. The most common connectivity options are MPLS, some form of broadband internet and 4G Long Term Evolution. SD-WAN management can help organizations track the reliability and performance of certain links from specific service providers. It can also help them adjust traffic patterns when application performance suffers.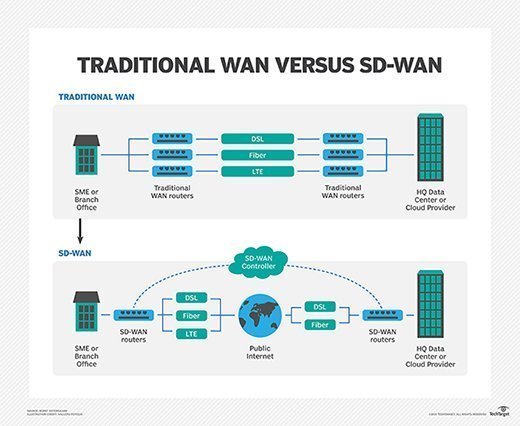 Interface with legacy routers. Most SD-WAN providers support legacy routing protocols, like Border Gateway Protocol, to facilitate management of MPLS links. Organizations should unify SD-WAN and branch router management to simplify operations. Legacy WAN optimization appliances are another management silo of concern at the branch.
Security. Large organizations typically charge separate security organizations with architecting and deploying security technologies. It is then essential that these networking and security organizations coordinate together. Many organizations have deployed firewalls and unified threat management at branch locations to help protect their WAN traffic. SD-WAN management needs to seamlessly interoperate with branch, data center and cloud-based security. A number of SD-WAN suppliers have announced partnerships with specific security providers to improve management interoperability.
This was last published in
July 2017
Dig Deeper on Software-defined WAN (SD-WAN)
SD-WAN technology is available in a variety of business models, including SD-WAN as a service and managed SD-WAN. But how do the different ... Continue Reading
When contemplating SD-WAN managed services, organizations should ask questions about network security, infrastructure compatibility and bandwidth ... Continue Reading
Service mesh separates itself from SDN and NFV approaches with its clear focus on managing the communication and forwarding between multiple ... Continue Reading