Sergey Nivens - Fotolia
Q
Evaluate
Weigh the pros and cons of technologies, products and projects you are considering.
What are the differences between SDN open source and vendor products?
Choosing between SDN open source and vendor-provided options is easier when you know some of the available choices. Industry analyst Lee Doyle lists some of the options.
Many organizations have experienced the benefits of automation and scalability that software-defined networking...
Continue Reading This Article
Enjoy this article as well as all of our content, including E-Guides, news, tips and more.
brings to their data center networks. IT leaders are challenged to pick SDN options that are standards-based, open and interoperable in multivendor environments. Choices include SDN open source software, like OpenDaylight or OpenFlow, network operating systems for white box switches and a wealth of vendor-specific SDN products.
Leading enterprise IT organizations have deployed SDN in their data centers to automate network deployments, improve management capabilities and improve scalability. SDN products are easily customizable and can be adapted to their specific requirements.
Editor's note: SD-WAN is a separate product category and is not addressed here.
SDN open source options
Proponents of SDN open source promote its benefits of no -- or low -- cost, innovation and adaptability.
Proponents of SDN open source advocate its benefits of no -- or low -- cost, innovation and adaptability. A leading SDN open source option in the data center is OpenDaylight (ODL). The OpenDaylight Project, hosted by the Linux Foundation, comprises a large number of leading suppliers and buyers of networking services. The Linux Foundation promotes ODL standardization and adoption, and its goal is to create a strong developer and partner ecosystem to continually enhance ODL. A number of vendors use ODL code, including Lumina Networks -- a spinoff from Brocade -- which supports commercial ODL distribution.
The original SDN standard protocol is OpenFlow. The OpenFlow controller enables programmability of the forwarding plane for network devices, like switches and routers. OpenFlow is promoted by the Open Networking Foundation. Many network suppliers use OpenFlow in their products, and OpenFlow is broadly implemented by leading service providers.
OpenStack -- by the OpenStack Foundation open source standards group -- offers another option for data center network software. In addition, the Open Networking User Group is a user-driven organization that promotes open network software standards and adoption.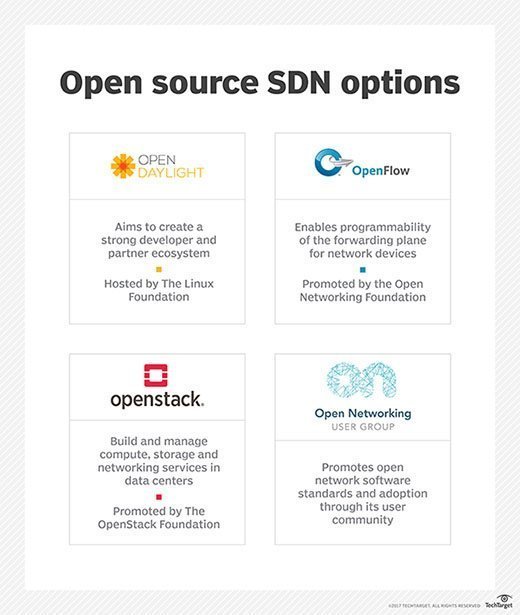 Leading supplier options
Vendor options have traditionally dominated data center networking due to their high performance, reliability, and well-established service and support capabilities. A number of vendors offer SDN for the data center. Below are some of the options:
Cisco. The vendor's Nexus 9000 line of data center switches includes Application Centric Infrastructure and Application Policy Infrastructure Controllers that offer SDN capabilities.
VMware. NSX is overlay software that offers network virtualization and security to data center networks independent of the underlying switch hardware.
Additional data center switch suppliers with SDN options include Aruba -- a Hewlett Packard Enterprise company -- Dell, Arista Networks and Juniper Networks, among others.
Network operating systems. A number of suppliers offer software to support white box switches in the data center, including Big Switch Networks, Cumulus Networks and Pluribus Networks.
This was last published in
August 2017
Dig Deeper on Software-defined networking
SD-WAN technology is available in a variety of business models, including SD-WAN as a service and managed SD-WAN. But how do the different ... Continue Reading
When contemplating SD-WAN managed services, organizations should ask questions about network security, infrastructure compatibility and bandwidth ... Continue Reading
Service mesh separates itself from SDN and NFV approaches with its clear focus on managing the communication and forwarding between multiple ... Continue Reading