alex_aldo - Fotolia
Q
Evaluate
Weigh the pros and cons of technologies, products and projects you are considering.
Slow rate of IPv6 adoption: True or false?
An expert explains why the adoption rate of IPv6 isn't as slow as people think and why it is important to create a dual-stack environment during the protocol shift.
Slow IPv6 adoption is a commonly held belief. But that's not necessarily true, according to recent research. Because the task to integrate IPv6 seems very challenging and almost too complex to master, many use this as a good excuse to delay work.But if we have a closer look at how the adoption rate has progressed in the last two years, we see some surprising facts.
According to statistics from Google and Cisco, 2011 marked the period where IPv6 adoption started to accelerate. In February 2011 the Internet Assigned Numbers Authority (IANA) announced the depletion of the global IPv4 address pool. This was a wakeup call for many. In June 2012, when we celebrated World IPv6 Launch Day, adoption had increased from 0.3% to 0.7%, which means it more than doubled. One year later, in June 2013, it doubled again, reaching 1.4%. And then adoption accelerated at a pace that even the enthusiasts among us IPv6 evangelists didn't expect. We had become comfortable with the thought that the adoption rate would double approximately every nine months. But in June 2014, adoption hit 3.5%, a growth rate of 150% in one year.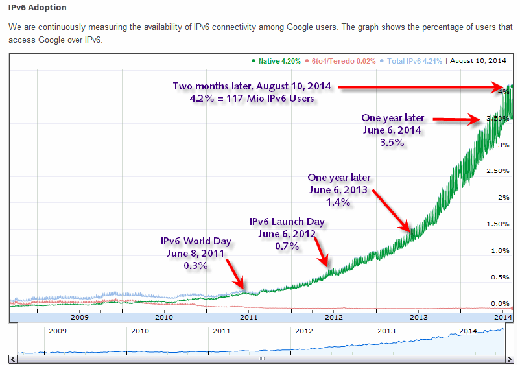 So let's be conservative and assume that adoption will continue to grow at that rate -- 2.5 times per year. This would lead to an IPv6 adoption rate of more than 50% in three years (8.75% in 2015, 21.87% in 2016, and 54.68% in 2017). At this rate, expect the Internet to become IPv6 dominant -- more than 50% -- within three years from now.
Of course, even at this pace, sunsetting IPv4 in the Internet will not occur for many decades (just as some still have Windows NT boxes running somewhere). But as IPv6 becomes dominant in three years, it is high time to develop and design networks with IPv6 in mind and only if necessary make it backwards compatible with IPv4. There are enough mechanisms available to make that possible.
What does IPv6 adoption mean for the enterprise?
When it comes to IPv6 and the enterprise, the focus should be on the customers accessing public websites and all public services. The reason the enterprise should take IPv6 seriously is the quality of users' experience. Having dual-stack capabilities -- by the end of 2014 or in 2015 at the latest -- should be a priority. Without dual-stack, enterprises face the risk that users will have difficulties accessing their websites because ISPs will have to use a number of tricks to extend the lifetime of their IPv4 address space. The user won't know that the bad experience comes from these IPv4 tricks; he or she will assume it comes from a malfunctioning website and blame the owner.
Internal networks don't face the same time pressure. You can prepare to manage cost and risk by planning early. In a large enterprise, the introduction of IPv6 can take up to three or more years. If you plan early, you can offset some of the costs by making use of regular product refresh cycles and by aligning IPv6 integration with other IT projects (such as redesigning data centers or demilitarized zones or introducing new services). Early planning allows you to take your time to manage addressing and security, to update your purchasing guidelines -- which, in turn, provides investment protection (any device or service that you buy today with a lifecycle of more than two years will probably have to be IPv6-enabled in its lifetime) -- and to train your staff sufficiently.
Dig Deeper on Network protocols and standards
Expert Silvia Hagen explains what v6LoWPAN does and how it's used. Continue Reading
Expert Silvia Hagen explains what ICMPv6 is, and how it differs from ICMPv4. Continue Reading
For IPv6 and IPv4 expert Silvia Hagen's latest advice, view her Public Profile on the IT Knowledge Exchange. Continue Reading
Have a question for an expert?
Please add a title for your question
Get answers from a TechTarget expert on whatever's puzzling you.