Olivier Le Moal - Fotolia
Q
Get started
Bring yourself up to speed with our introductory content.
NFV vs. VNF: What's the difference?
NFV versus VNF: SDN engineer Darien Hirotsu explains the differences between network functions virtualization and virtual network functions.
Networking professionals sometimes use the terms virtual network functions, or VNF, and network functions virtualization, or NFV, interchangeably, which can be a source of confusion. However, if we refer to the NFV specifications the European Telecommunications Standards Institute, or ETSI, sets forth, it becomes clear the two acronyms have related but distinct meanings.
First, what is a network function? The term typically refers to some component of a network infrastructure that provides a well-defined functional behavior, such as intrusion detection, intrusion prevention or routing.
Historically, we have deployed such network functions as physical appliances, where software is tightly coupled with specific, proprietary hardware. These physical network functions need to be manually installed into the network, creating operational challenges and preventing rapid deployment of new network functions.
A VNF, on the other hand, refers to the implementation of a network function using software that is decoupled from the underlying hardware. This can lead to more agile networks, with significant Opex and Capex savings.
In contrast, NFV typically refers to the overarching principle or concept of running software-defined network functions, independent of any specific hardware platform, as well as to a formal network virtualization initiative led by some of the world's biggest telecommunications network operators. In conjunction with ETSI, these companies aim to create and standardize an overarching, comprehensive NFV framework, a high-level illustration of which appears below. Notice the diagram highlights VNFs that are deployed on top of NFV infrastructure, which may span more than one physical location.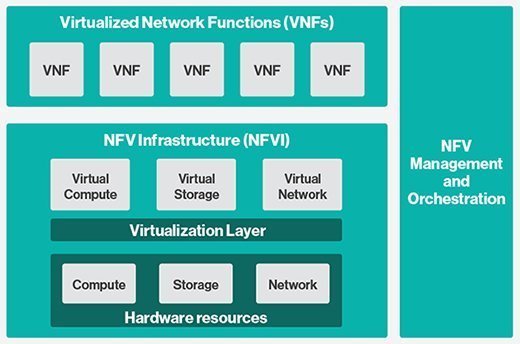 To summarize, NFV is an overarching concept, while a VNF is building block within ETSI's current NFV framework.
This was last published in
October 2016
Dig Deeper on Network virtualization technology
Implementing NFV remains a daunting task, but Open Platform for NFV offers a path forward. Our expert explains where the open source platform stands ... Continue Reading
SDN engineer Darien Hirotsu discusses the benefits of the Central Office Re-architected as Datacenter concept for the telecom central office. Continue Reading
SDN engineer Darien Hirotsu explains what it will take for SDN to become the industry standard, with software-driven networks outnumbering their ... Continue Reading