Q
Evaluate
Weigh the pros and cons of technologies, products and projects you are considering.
How does a managed SD-WAN service work?
Networking analyst John Burke explains managed software-defined WAN, and he discusses why providers are starting to offer the service to their customers.
Managed WAN services are nothing new -- a customer pays a service provider a flat monthly subscription fee to install,...
Continue Reading This Article
Enjoy this article as well as all of our content, including E-Guides, news, tips and more.
monitor and maintain networking equipment, such as routers, at branch offices. Managed service contracts typically include service-level agreements, guaranteeing customers can expect a certain degree of performance and connectivity, even in remote locations.
Managed software-defined WAN (SD-WAN) services are much newer, however, since SD-WAN itself is relatively new. Managed SD-WAN is something of an odd duck, since SD-WAN technologies are sold partly because of the ease they bring to WAN management.
At the highest level, SD-WAN brings the world of software-defined networking to the edge of the network, with the same general goals as SDN: Decrease capital expense, decrease operating expense, and increase agility and flexibility.
SD-WAN architecture is based on SDN's separation of the control plane and data plane, with a central policy engine holistically managing all endpoints -- hard or soft in each location. SD-WAN helps with three key problems:
It secures integration of diverse communications links into well-managed WAN bandwidth pools.
It better aligns WAN architecture to network service needs.
And it simplifies WAN management.
SD-WAN makes the WAN more application- and service-centric. Application-focused policies control traffic prioritization and load balancing across all available links, even in the topology of each virtual WAN overlay. SD-WAN also supplies application-centered traffic monitoring and reporting.
Reasons to use managed SD-WAN services
Most carriers and managed network services providers now offer managed SD-WAN. They typically deploy managed instances of an enterprise service, but sometimes supplement with services provided out of their own cloud. They could, for example, allow direct connectivity to cloud providers via some kind of WAN-cloud exchange. Managed providers and carriers sometimes use a purpose-built SD-WAN service of their own instead.
These managed SD-WAN services allow the enterprise all the flexibility and some of the cost savings of an SD-WAN environment, depending on how they provision the service. If a company embraces SD-WAN and makes use of its ability to add multiple low-cost links at every site to achieve redundancy and capacity, managing that connectivity can become a major headache. But managed SD-WAN services can minimize that headache of managing the infrastructure and connectivity.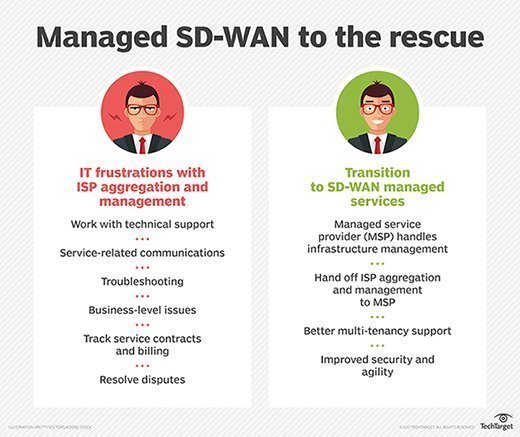 Benefits of using managed SD-WAN
Managed SD-WAN services give enterprises an even more flexible WAN, while completely offloading the already reduced work of managing it. This allows enterprises and IT staff to focus on other things. It also gives carriers a new approach to the WAN services space, recapturing business from enterprises otherwise capping, cutting back on or simply fleeing their MPLS services.
This was last published in
December 2017
Dig Deeper on Software-defined WAN (SD-WAN)