Get started
Bring yourself up to speed with our introductory content.
Silver Peak Systems' NX-1000 WAN optimization appliance addresses SOHO/SMB market
Silver Peak Systems' NX Series WAN acceleration products have always addressed the optimization concerns of large enterprises like Google and Cap Gemini. Silver Peak's NX-1000 targets the SOHO/SMB market to better compete against the varied WAN optimization market.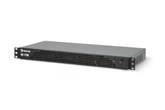 Silver Peak Systems' NX Series wide area network (WAN) acceleration products have always focused on large enterprises until today, when the vendor launched its NX-1000 WAN optimization appliance, which targets the Small Office Home Office (SOHO) and small and medium-sized business (SMB) markets.
Silver Peak Systems marketing vice president Jeff Aarons said the NX-1000 was developed to compete against other vendors in the highly diversified WAN optimization market and to satisfy SOHO user demands.
What is Silver Peak Systems' NX-1000 WAN optimization appliance?
The NX-1000 is a WAN optimization appliance built for SOHO/SMB environments. It is used to maximize WAN bandwidth, overcome network latency and improve poor WAN quality where network traffic is subject to packet loss.
The NX-1000 includes the following features for SOHO/SMB customers:
WAN capacity of 256 Kbps to 4 Mbps.
Network memory WAN de-duplication of up to 500 GB of local data storage.
Up to 100,000 flow counts and 8,000 simultaneous flow counts.
WAN security through real-time encryption of data at rest and in transit.
The one rack unit (1RU) is 8.5 inches in depth and includes rack, wall and desktop mounting options. Because of its low 40 dBA noise level, it is suited to open office environments, according to Silver Peak.
NX-1000 pricing and availability
Silver Peak Systems' NX-1000 is available now at $4,995.
"Branch-to-branch comparison of our WAN optimization box is priced the same [against other vendors], but we offer built-in data center and redundancy, which other vendors need other appliances to accomplish," Aarons said. This means that enterprise WAN managers looking for back-up disaster recovery solutions can use the NX-1000 for small offices without having to purchase a collection of boxes stacked together, as is usually the case with other WAN optimization offerings.
Why do enterprise WAN managers need to know about the NX-1000?
WAN managers interested in optimizing network traffic to branch offices may want to consider the NX-1000 as a candidate for their SOHO/SMB environments. Unlike all other WAN optimization vendors, Silver Peak Systems optimizes network traffic at the IP-level. This means they can optimize all applications rather than one application at a time.
"We're application agnostic," Silver Peak Systems' CTO Dr. David Hughes told SearchEnterpriseWAN.com. Because of this capability, the NX-1000 can de-duplicate all IP traffic, both TCP and non-TCP.
Users in the SOHO market are especially interested in cost-effective low-end virtual appliances, which Silver Peak's NX series satisfies with its unique Layer-3 (L3) approach to WAN optimization.
Aarons explained:
Because we fix bandwidth, latency and loss issues within the network, we greatly benefit virtual desktop infrastructure ( VDI) applications. These [virtual] applications in particular are very susceptible to latency and poor WAN quality, which Silver Peak fixes with our Network Acceleration and Network Integrity features, respectively. Also, VDI applications generate a lot of flows, as many remote users are forced to connect to a centralized host. As Silver Peak's appliances support six to 10 times more simultaneous flows than competing WAN optimization solutions, we can easily support the capacity requirements associated with large VDI deployments.
Are there drawbacks to Silver Peak Systems' NX-1000?
If you have a single mobile client, it's best not to use the NX-1000. "We're not going to add a mobile client to our WAN optimization solution for individual clients," Aarons said. "[In those cases], most people will turn to a software WAN optimization solution vendor."
Although the NX series supports virtual applications (VA) and VDI, the company has yet to produce a virtual version of the Silver Peak appliance.
In terms of what comes next, "All I can say is 'stay tuned,'" Aarons said. "We certainly see the value of a VA in some environments and will be making announcements on that front in the near future."