Evaluate
Weigh the pros and cons of technologies, products and projects you are considering.
Linksys WAP2000 Business Access Point: Review and configuration
Learn how to configure the Linksys WAP2000 Business Access Point, and find out its positive and negative points, in this review and configuration screencast. David Davis describes the features and best and worst points of the new Linksys WAP2000 Business Access Point, then walks you through a step-by-step configuration demo screencast.
In recent years, Linksys (a Cisco company) has been moving more and more into providing solutions to enterprise customers, and the new Linksys WAP2000 Business Series Access Point is an important part of that. In this article and the accompanying screencast, you will learn what this new Linksys Wireless AP can do for you and how to perform a base configuration.

What are the features of the new Linksys/Cisco WAP2000 Business AP?
The Linksys WAP2000 is part of the Linksys ONE solution. Linksys ONE is a product line -- designed for small and medium-sized businesses (SMBs) -- which offers integrated, low-cost VoIP, routing and wireless solutions. You don't need any other part of the Linksys ONE solution to use the WAP2000; it works fine as a standalone enterprise-grade WAP.
What is unique about the WAP2000 is that it offers:
Power over Ethernet (PoE): A must for businesses that need to blanket a building with wireless access. With PoE, you can just run an Ethernet cable to each AP -- not an Ethernet cable and power cable.
WPA2 authentication with AES256 bit encryption: The strongest authentication and encryption protocol you can find today.
Linksys RangeBooster: Used to achieve twice the range of regular 802.11g AP, as well as to gain 35% more throughput than standard 802.11g wireless.
Other features include the ability to have multiple SSIDs (perhaps one for the private internal wireless network and one for public Internet access), wireless roaming so you can move between APs, auto channel selection, and dual firmware in case a software upgrade fails to complete successfully.
How does this Linksys Business AP compare with a Cisco AP?
The biggest difference between the Linksys AP and any of the Cisco wireless APs is going to be that the Linksys AP lacks the Cisco IOS. Having the Cisco IOS on all devices (routers, switches and APs) is a great benefit if you are going to take the time to get trained on it and use all the features that it can offer.
On the other hand, if the WAP2000 GUI interface provides all the features needed for your SMB (as it probably will), then the Cisco IOS is really unneeded and overly complex.
Where does this Linksys AP best fit?
Linksys has done a good job of product design and positioning with the WAP2000. It is designed with SMBs and the Linksys ONE initiative in mind, and that is really where it best fits. The WAP2000 is not the best very large enterprise wireless AP, nor is it the best for a home office. In my opinion, a business with five to 75 employees who need wireless access would be an ideal candidate for the WAP2000.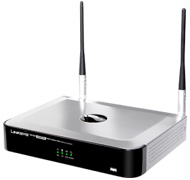 What has Linksys done right, and what has it done wrong?
Good
Packaging: The sleek silver finish on the AP is nice, as is the black front with LEDs.
Concept: Having a feature-rich enterprise-grade AP for SMBs at a reasonable cost is smart and meets a need.
Features: There are lots of necessary features, like PoE, WPA2/AES256, multi-SID, and RangeExtender.
Could use improvement
Tech Support: When I called in with a basic question (how to gain access to the device and reset it to its default config), I was transferred about five times and finally spoke to someone who knew less than I did. I ended up reading the Linksys manual over the phone, and that was how I resolved my problem.
Serial Console Interface: I know that it might be considered "old school" by many, but I wish that this Linksys business AP had a serial console port, as a Cisco device would. It may be used only for configuration, but -- to me -- it would be well worth paying a little extra to have.
Screencast: Management overview and basic configuration of the Linksys WAP2000 Business AP
* Configuration Note: the WAP2000 does not come with an IP address. If you do not use DHCP to provide one for it, you will have to use the reset button and follow the instructions in the manual carefully for the AP to be assigned an IP of 192.168.1.245. Also, wireless Web management is not enabled by default. For initial configuration, you will have to connect the Ethernet port directly to your computer.
About the author:
David Davis (CCIE #9369, VCP, CWNA, MCSE, CISSP, Linux+, CEH) has been in the IT industry for 15 years. Currently, he manages a group of systems/network administrators for a privately owned retail company and authors IT-related material in his spare time. He has written hundreds of articles and six video training courses, including the Train Signal VMware ESX Server video training series. His websites are Happy Router.com and VMware Videos.com.
This was last published in
June 2008