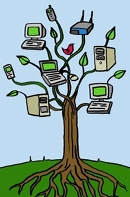 "Green networking" -- the practice of consolidating devices, relying more on telecommuting and videoconferencing, and using virtualization to reduce power consumption across the network -- is an offshoot of the trend towards "greening" just about everything from cars to coffee cups. That trend has encompassed IT in general, the data center and the network. But network pros don't just need lip service to stopping global warming. In this special report on green networking, we cut through the hype to present you with some real-world reasons why going green could save some green in your budget.

SPECIAL REPORT
How green network design and equipment save money and power
How green is my network? -- A look at the cost-savings benefit of green IT
We set the stage for our special report by explaining how going green applies to network operations, and explains why the cost-savings benefit may be more compelling (at least for now) than the urge to save the planet.
Keeping it green: Design principles for efficient architectures
Green networking means efficient networking. Efficient network design combines improvements in consumption and consolidation to achieve increased manageability and lower lifecycle cost. In this tip, learn more about the specifics of efficient network design you can implement to keep your network green, as well as avoiding wastes of bandwidth, power and budget.
IEEE P802.3az Energy Efficient Ethernet: Small network power savings add up
Find out how the new IEEE P802.3az Energy Efficient Ethernet project aims to deliver major energy savings by combining many small savings.
Green networking: Energy efficient upgrades can cut costs
Upgrading older networking products to greener, more efficient equipment can cut costs, but administrators should take a close look at total savings from switching out energy hogs like gigabit Ethernet switches for new, greener models. Scottsdale, Ariz.-based research firm In-Stat's report, "Green Networking Equipment: Who Leads and Who Lags," found that the worst offenders and early candidates for green networking equipment upgrades were gigabit Ethernet switches.
Networks in need of a green thumb
Network power consumption comes in many forms. In this Q&A, Gary Audin, president of network consulting firm Delphi Inc., discusses the networking devices that are the biggest power drain and the best time to consider networking solutions that are a bit greener.
Xerox goes green with rewritable paper
Saving the planet, one sheet of reusable paper at a time: Xerox has developed a reusable paper based on the molecular compound used on glasses that change tint in the light. (SearchCIO.com)
Info-Tech Research Report: Craft a green IT action plan
Many IT departments want to undertake green IT initiatives, but don't know where to start. This research note will help you understand green IT and learn how to draft and execute a green IT action plan.

"Craft a green IT action plan" is available in PDF format, free to SearchNetworking.com users for a limited time.
Building a business case for green IT
Green networking: Selling the idea to executives
Gary Audin knows the network consumes a lot of power. But Audin also has ideas that could change that and cut network-related power consumption to a fraction of what it is today. Used correctly, they could truly cut costs and conserve energy.
Making the case for green networking
More and more IT departments are being told to reduce power consumption in the data center. Cisco announced an initiative at the start of 2008 to make its products run more efficiently. In this interview, Pat Scheckel, senior director of products and solutions at Cisco partner CDW Berbee, helps you understand the green networking trend and explains why going green could be a good option for channel businesses. (SearchNetworkingChannel.com)
The green data center: Energy-efficient computing in the 21st century
Learn how to build the business case for energy efficiency in your data center. This e-book explains the forces driving IT energy consumption, why you should care and how you can mitigate the problem. Each month we publish a new chapter to help you implement a data center energy-efficiency plan. The chapters will cover the economics of data center efficiency, how to implement a plan, new green technologies in server hardware, storage and infrastructure, and case studies of companies that have put together successful data center efficiency plans. (SearchDataCenter.com)
How unified communications bolsters green strategies
UC plays into green IT strategy
Unified communications (UC) has been slow to catch on, in part because of the lack of a business case. Here, SearchUnifiedCommunications.com columnist and Yankee Group analyst Zeus Kerravala explains how UC can help a company become greener, and consequently, how companies can build a business case around UC. (SearchUnifiedCommunications.com)
Cisco's new collaboration tools key to green strategy
Cisco's Paul Marcoux, "green guru" and vice president of engineering, frames the company's TelePresence and unified communications push as a way to help the environment while cutting costs. (SearchUnifiedCommunications.com)
This was first published in April 2008