Search
Networking
CCNA Certification Study Guide
Your free starter guide to the Cisco Certified Network Associate certification
By submitting your personal information, you agree that TechTarget and its partners may contact you regarding relevant content, products and special offers.
You also agree that your personal information may be transferred and processed in the United States, and that you have read and agree to the Terms of Use and the Privacy Policy.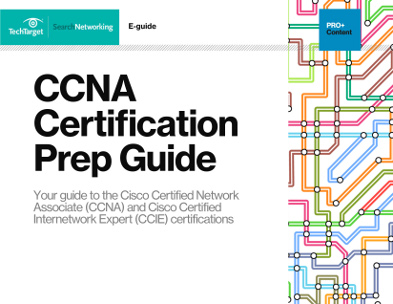 Achieving your Cisco Certified Networking Associate (CCNA) certification requires a true in-depth understanding of network fundamentals and network security technologies. Not only will obtaining this certification expand your career opportunities, but it will also benefit your employer's network.
Inside this prep guide, find articles on:
Realignment of the entry-level certification

New collaboration certification that rolls voice, video CCNA into one

IoT certification upgrades and how they target IT pros
Think you're ready? Take our practice quizzes!
We have prepared two 10-question quizzes to help you practice for the exam. Read through our prep guide, and then take our interactive quizzes to see how prepared you really are.