News
Stay informed about the latest enterprise technology news and product updates.
New Juniper Bots apps boost network automation
Network automation gets a boost with new Juniper Bots apps for DevOps testing and network anomaly tracking. The apps are set for release next year.
Juniper Networks has introduced a line of applications that brings more automation to network operations.
Continue Reading This Article
Enjoy this article as well as all of our content, including E-Guides, news, tips and more.
By submitting your personal information, you agree that TechTarget and its partners may contact you regarding relevant content, products and special offers.
You also agree that your personal information may be transferred and processed in the United States, and that you have read and agree to the Terms of Use and the Privacy Policy.
The new Juniper Bots apps, launched Thursday, are for service providers and enterprises using the company's switches and routers. The company plans to release the initial three Bots in the first half of next year.
The Bots useful to enterprises, as well as service providers, include the Contrail TestBot and the AppFormix HealthBot. The third application, the Contrail PeerBot, is only for carriers. The trio is the latest advancement in Juniper network automation.
The Bots apps represent Juniper's latest move toward providing software that automates networking tasks that are done manually today. Juniper's largest rival, Cisco, has embraced the automation trend and has rolled out software across its networking portfolio.
"Both these companies are working toward that goal -- to provide more automation and more optimization tools and more tools that leverage AI and machine learning," said IDC analyst Rajesh Ghai. "Enterprises see the biggest bang for the buck is automating all the diverse systems that they have and reducing Opex."
Pulling telemetry data from switches and routers and turning it into actionable intelligence through analytics underpins most automation software today. The Juniper Bots are examples of that approach. They run on a commodity server, grab data through the devices' APIs and display processed information graphically to engineers.
Juniper network automation gets AppFormix HealthBot
The AppFormix HealthBot uses data drawn from Juniper switches and routers to display the state of the network and identify anomalies. HealthBot collects the information it needs through the telemetry interfaces on the Juniper gear, including QFX switches and MX and PTX routers.
HealthBot has a machine learning engine that performs root-cause analysis of network abnormalities, said Donyel Jones-Williams, director of product marketing at Juniper, based in Sunnyvale, Calif. Juniper grabbed the technology from AppFormix, which is the company's software for managing application performance in public, private and hybrid cloud computing environments.
"We're training the machine [in HealthBot] to look for certain patterns in the logging files and then give analysis, recommendations and insights," Jones-Williams said. "We're using the machine to augment some very rudimentary, time-consuming processes."
For now, HealthBot and AppFormix will remain separate, despite sharing the same machine learning technology, Jones-Williams said. "These things will come together eventually."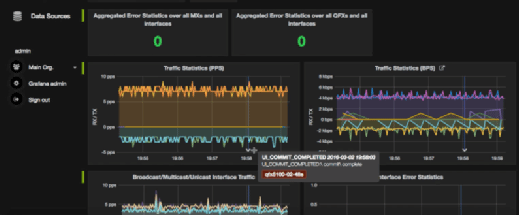 While Juniper has other network monitoring products, the company has built HealthBot on a cloud-native architecture, so companies can use it to manage networking in a public or private cloud. "A lot of classical network monitoring systems are written in a way where it doesn't translate well to these newer environments," Jones-Williams said.
Despite the name, the Contrail TestBot has no integration with Juniper's Contrail controller, which provides centralized management of a virtual overlay network. "We're using the term Contrail to reaffirm the software side of the application," Jones-Williams said.
Juniper's goal for TestBot is to let DevOps teams test programs on an instance of the network, instead of the production version, to see in advance the impact of the application. The test bed can only contain virtual replications of Juniper switches, routers and firewalls.
Once a DevOps team finishes testing, it will have the option of using an automated deployment mechanism for moving a program from TestBot to the production network, Jones-Williams said.
Service provider tools in Juniper network automation
The Contrail PeerBot has a built-in virtual route reflector that computes the best path for data to travel across a service provider's peering infrastructure. Peering is the arrangement internet service providers have to let each other's traffic run on their backbones. It requires the exchange and updating of router information between ISPs, typically using the Border Gateway Protocol.
Finally, Juniper has added enhancements to the Juniper Extension Toolkit (JET), which is the application development platform for the company's Junos network operating system. The new capabilities let network operators manipulate the IP packets and headers passing through MX routers. Juniper plans to extend the features to the QFX and PTX products.
A beta version of the latest JET iteration is available on GitHub, a web-based version-control and collaboration platform for software developers.
Dig Deeper on Network Monitoring
PRO+
Content
Find more PRO+ content and other member only offers, here.