Sustaining WLAN performance for video traffic explosion
Mobile video streaming can disrupt WLAN performance, so engineers are re-architecting networks and taking precautions to handle video traffic.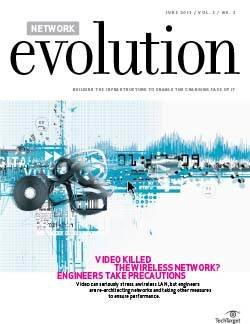 Download
Mobile video streaming is the stuff of nightmares for wireless LAN (WLAN) managers. It is extremely sensitive to poor WLAN performance, and it voraciously consumes bandwidth. Worse, it never stops growing.
Continue Reading This Article
Enjoy this article as well as all of our content, including E-Guides, news, tips and more.
By submitting you agree to receive email communications from TechTarget and its partners. Privacy Policy Terms of Use.

"The last time I had a chance to look, YouTube accounted for 20% of the traffic on our network, which is pretty significant given that everything else is in the single-digit range," said John Turner, director of networks and systems for Brandeis University in Waltham, Mass.
And that wireless video explosion is not just recreational; it's also due to enterprise collaboration and other business processes.
According to Cisco Systems' Visual Networking Index, video now accounts for more than 50% of total mobile traffic, and it will exceed 70% by 2016. Mobile service providers are feeling the pain today, but enterprises will feel the pain tomorrow. Much of this mobile video will hit enterprise WLAN performance hard.
"If you're doing a poor job of designing the network and are not following best practices, you have two problems coming at you: the increase in the number of mobile devices and video. It's going to be a perfect storm," said Paul DeBeasi, research vice president with Stamford, Conn.-based Gartner Inc.
Preparing WLAN performance for mobile video streaming
Enterprises should follow three basic steps when preparing for video, according to DeBeasi. First, network engineers must do site surveys in their wireless environments to determine how radio frequency (RF) signals will fare in the physical space. Next, they should design networks not just for coverage but also for WLAN performance. In some cases, this means deployment of many more access points (APs) to handle high density. Finally, they should have RF management tools in place, as well as monitoring technology that can see into video streams.
Tackling video traffic density for WLAN performance
Many existing wireless LANs were built for coverage and convenience, but not for the density needed to deliver heavy-duty media applications. For many organizations, delivery of this rich media will require a new AP-heavy wireless LAN.
The Perimeter Institute for Theoretical Physics recently upgraded to a new 802.11n-based wireless LAN from HP Networking. CIO Ben Davies doubled the density of APs from his legacy wireless LAN to accommodate the growth of mobility, particularly the growth of video, because researchers use services like iTunes University to communicate and collaborate with physicists around the world. He has 130 APs supporting about 250 physicists.
"We've been actively promoting video and Web conferencing on laptops with built-in cameras," Davies said. "We're also heavy users of Skype and we're starting to use WebEx and other alternatives. This creates a new and significant aggregate increase of network traffic, and that is increasingly on our wireless network."
Likewise, Brandeis University will roll out a new Aruba Networks wireless LAN this summer to replace a legacy 802.11a/b/g network that "ran like a champ" but ultimately became overwhelmed by video and mobile traffic.
"We don't hear specific complaints from students," Turner said. "They're not going to say that your [AP] is performing sub-optimally. They just say the Internet sucks. They mean that they can't get to YouTube or can't upload video at the rate they want to. We see that as a key piece of the expectation that people put on our network."
Turner planned for video by "building it big." The school is following best practices for designing a voice-grade network, and he's paying careful attention to the amount of density he is building into the network.
"We've learned some other pieces, too. We need to think very carefully about how we deploy QoS [Quality of Service]. We've also looked at trying to disable lower data rates, to encourage more rapid roams to boost performance as people download and watch video on the wireless side without affecting the people around them."
YES Prep Public Schools in Houston, Texas, had a similar challenge. Using Aruba equipment, the school system has built a wireless LAN that is handling 90% of its voice and video traffic.
"We're a full [Microsoft] Lync shop with no PBX integration. We take full advantage of voice calling, desktop sharing, video conferencing and audition conferencing," said Troy Neal, director of information technology and support services for Yes Prep.
Beyond deploying 48 APs to every school, Neal also installed APs on the carts that carry laptops from classroom to classroom. "We know that access point will handle that cart of machines, and we know we're not taking away coverage from another access point as we're moving those around."
Testing WLAN performance for mobile video streaming
St. Vrain Valley School District in Longmont, Colo., upgraded to an 802.11n-based wireless LAN from Ruckus Wireless due in part to the rise of video traffic on its legacy wireless network. Before making that decision, CIO Joe McBride's shop conducted testing that simulated the kind of intensity only lots of mobile video streaming can bring to a network.
"We had 30 different Mac laptops streaming video simultaneously off an access point," McBride said. "Then we went into an adjacent classroom and booted up 30 Dell PCs that also streamed video. At that point we had 60 different videos playing, and we found that we weren't breaking it. Then we grabbed our iPhones and iPads to see if we could. We had 78 devices running video off one AP."
McBride planned for a minimum of 30 devices streaming video in every classroom with enough overlapping coverage that if one AP went down, another one could reach in and service the room without interruption. To do that, McBride has deployed more than 1,000 APs to support 27,500 students and 4,200 staff across 52 sites. He's also relying on Ruckus' wireless beamforming capabilities, which enable APs to select the best path to trade RF signals with a client, in order to extend coverage.
Management and monitoring to ensure wireless video performance
Once an enterprise has a good network design in place, the IT organization must configure, manage and monitor the network to make sure mobile video is delivered optimally.
First, engineers should test for seamless roaming. Since users often move as they're using video, handoff from one AP to another can break a video session if not optimized, said Sujai Hajela, vice president and general manager of Cisco's wireless networking business unit. Implementation of the fast-roaming standard 802.11R is essential.
Network managers should also consider band steering, since RF is a shared medium with finite capacity, said Roger Sands, HP's worldwide director of product management for mobility.
"What's important is being able to migrate networks from the traditional 2.4 GHz spectrum to the 5 GHz spectrum, because there is a lot more capacity in 5 GHz," Sands said.
Then there is RF management, which is crucial, because there are still a lot of devices that only operate in the 2.4 GHz spectrum, said Hajela.
Almost every WLAN vendor offers some flavor of RF management. Cisco's CleanAir technology, for instance, performs spectrum analysis to adjust the network for sources of interference.
Troubleshooting WLAN performance for video traffic
Choosing the right wireless troubleshooting tools is also key to delivering video, according to Abby Hassel Strong, senior product marketing manager at Aerohive Networks.
"We're seeing it now with VoIP [Voice over Internet Protocol], and I think the same thing is going to happen with video," Hassel said. "Giving the administrator the ability to see what is happening [in order] to troubleshoot will become essential. They need to be able to see how many voice and video sessions are on their network, the service type, the device and where that service is coming from. [Otherwise] there is no way to scale going out to every location when someone calls and says, 'My video is choppy.'"
At the Perimeter Institute, Davies will begin assembling a shortlist of vendors that can provide these kinds of visibility tools.
"The reason we're introducing a new monitoring tool this year is to start tracing patterns to determine if and when we need to do traffic segmentation and how we might prioritize various traffic routes," Davies said.
In the meantime, he's trying to throttle down the growth of video traffic on his wireless LAN at the perimeter of his network.
"There are some sources of Web traffic, particularly video traffic, that start to raise policy questions," he said. "Occasionally people are viewing content that we wouldn't really support. In those cases we handle that at our enterprise perimeter. Last year we implemented Palo Alto firewalls to have visibility on users and content and applications. We can start putting enterprise-wide policies in place to restrict certain types of traffic and then provide exceptions where there is justification for it."
Dig deeper on WLAN Standards