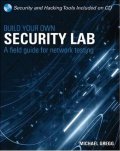 Securing Wireless Systems, Chapter 9 of
Build Your Own Security Lab: A Field Guide for Network Testing
, discusses some wireless networking basics, and then moves on to methods used to attack and secure wireless systems.
Wireless communication plays a big role in most people's lives, from cell phones and satellite TV to data communication. Most of you probably use a cordless phone at your house or wireless Internet at the local coffee shop. Do you ever think about the security of these systems once the information leaves the local device? Your next-door neighbor may be listening to your cordless phone calls with a UHF scanner, or the person next to you at the coffee shop may be sniffing your wireless connection to steal credit card numbers, passwords, or other information. Securing wireless communication is an important aspect of any security professional's duties.
To read the full chapter, download this Securing Wireless Systems PDF.
Better yet, have this chapter read to you in this Securing Wireless Systems podcast -- our first ever book chapter audio recording:
About the book:
Build Your Own Security Lab: A Field Guide for Network Testing
presents real-world security skills that will always be in demand and are essential for the IT professional, as organizations are forced to analyze scenarios in which trusted insiders could download information and sell it to the highest bidder or give it to the competition.
This hands-on guide is unique from its competition in that it shows how to build a security test platform, and requires readers to set up VMware and configure a bootable Linux CD. Each chapter follows a common cycle of security activities and offers real-world implementation details, aimed at taking readers to the next stage of personal knowledge and skill development. This book also includes a CD-ROM featuring security and hacking tools that can be used for building the lab and also includes open source tools, demo software, and a bootable version of Linux.

About the author:
Michael is the President of Superior Solutions, Inc., a Houston based training and consulting firm. He is an expert on networking, security, and Internet technologies. He holds two associates degrees, a bachelor's degree, and a master's degree. He presently maintains the following certifications: MCSE, MCT, CTT, A+, N+, CNA, CCNA, CIW Security Analyst, and TICSA.
This book chapter was excerpted from Build Your Own Security Lab: A Field Guide for Network Testing by Michael Gregg (ISBN: 978-0-470-17986-4). Copyright © 2008, Wiley Technology Publishing. All rights reserved.
This was first published in September 2008