When you're designing and building a new wireless network, or when you want to improve the performance of an existing network, it's important to understand what's going on inside the box (or in this case, inside each of the boxes that make up the network). This chapter from
The Book of Wireless: A Painless Guide to Wi-Fi and Broadband Wireless
describes the standards and specifications that control wireless networks and explains how data moves through the network from one computer to another. You'll also learn about the history of radio and wireless data networking.
Read the full chapter in this PDF: Introduction to wireless networks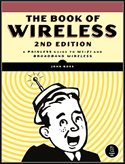 About the book: Wireless networking is ubiquitous, but how many people really know how it works, or what to do when it doesn't? To give new and current users the background, knowledge, and technical savvy that they need to successfully make the most of wireless. Learn more about wireless networking and help your users help themselves with The Book of Wireless 2nd Edition. This comprehensive and conversational guide demystifies configuring and using wireless networks for the average person -- everything from shopping for parts to securing your network.
Following an in-depth look at how wireless networks work, The Book of Wireless discusses hardware, setting up a home or office network and Wi-Fi clients for Windows, Macintosh, Linux, and Unix. And no Wi-Fi book would be complete without thorough coverage of security risks and the latest techniques for protecting your network, computer, and private data.
Learn how to:

Select and configure hardware and software for Wi-Fi networks
Secure your network using WPA encryption or a virtual private network (VPN)
Discover open networks and maintain privacy while surfing in public
Use VoIP over wireless to talk on the phone for next to nothing
Evaluate wireless data services based on cost, speed, and coverage
Use broadband wireless and Wi-Fi with smartphones
You'll also learn about new and forthcoming broadband wireless standards and how to choose the right service provider and equipment. With up-to-date information on wireless routers, network interface cards, antennas, security, and software, The Book of Wireless will help you navigate the confusing wireless landscape to find the perfect solution.
About the author:
John Ross has worked as a consultant on wired and wireless networking for several manufacturers, including Motorola and AT&T. He is the author of more than two dozen books, including Internet Power Tools (Random House), Connecting with Windows (Sybex), and It's Never Done That Before (No Starch Press).
Read the full chapter in this PDF: Introduction to wireless networks
Excerpted from The Book of Wireless, Second edition by John Ross (ISBN 10: 1-59327-169-7 | ISBN 13:9781593271695).
Copyright © 2008, No Starch Press. All rights reserved.
This was first published in February 2008