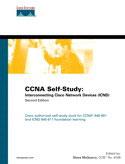 Chapter 3 of CCNA Self-Study by Steve McQuerry explores how VLANs operate to provide more effective networks by controlling broadcasts in your network. To configure VLANs on a Catalyst switch, you must first configure VTP to administer VLANs. Therefore, you'll learn how VTP operates and how it is configured. You also learn how to create a trunk link to carry all VLAN traffic, and how to configure a VLAN.
Read the rest of the excerpt in this PDF.
---
Excerpted from
CCNA Self-Study: Interconnecting Cisco Network Devices
by Steve McQuerry (ISBN: 1587051427). Copyright 2004, Cisco Systems, Inc. Reproduced by permission of Pearson Education, Inc., 800 East 96th Street, Indianapolis, IN 46240. Written permission from Pearson Education, Inc. is required for all other uses.
Visit www.ciscopress.com for a detailed description and to learn how to purchase this title.
This was first published in February 2006