"Creating Remote Access and Site-to-Site VPNs with ISA Firewalls," Chapter 20 of
The Best Damn Firewall Book Period, Second Edition
gives you an excellent overview of ISA firewall VPN networking. Solutions discussed in this chapter are as follows:
Creating a remote access PPTP VPN server
Creating a remote access L2TP/IPSec server
Creating a PPTP site-to-site (S2S) VPN
Creating a L2TP/IPsec site-to-site VPN
IPsec tunnel mode site-to-site VPNs with downlevel VPN gateways
Using RADIUS for VPN authentication and remote access policy
Using EAP user certificate authentication for remote access VPNs
Supporting outbound VPN connections through the ISA firewall
Installing and configuring the DHCP server and DHCP relay agent on the ISA firewall
Read the rest of
Creating Remote Access and Site-to-Site VPNs with ISA Firewalls
in this PDF.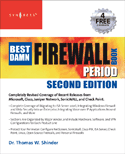 About this book: The Second Edition of The Best Damn Firewall Book Period is completely revised and updated to include all of the most recent releases from Microsoft, Cisco, Juniper Network, SonicWALL, and Check Point.
Compiled from the best of the Syngress firewall library and authored by product experts such as Dr. Tom Shinder on ISA Server, this volume is an indispensable addition to a serious networking professional's toolkit.
Coverage includes migrating to ISA Server 2006, integrating Windows Firewall and Vista security into your enterprise, successfully integrating Voice over IP (VoIP) applications around firewalls, and analyzing security log files. Sections are organized by major vendor, and include hardware, software, and VPN configurations for each product line.
Download Creating Remote Access and Site-to-Site VPNs with ISA Firewalls.
Excerpted from The Best Damn Firewall Book Period, Second Edition by Thomas Shinder (ISBN: 978-1-59749-218-8). Copyright © 2007, Syngress. All rights reserved.

This was first published in April 2008