A wildcard mask is a sequence of numbers that streamlines packet routing within the subnets of a proprietary network. A subnet can be a geographically defined local area network (LAN). Alternatively, a subnet may define security boundaries, departmental boundaries, multicast zones or hardware security parameters. The use of a mask saves a router the task of having to handle an entire IP address because the router deals only with the digits selected by the mask. Wildcard masks are commonly used with Open Shortest Path First (OSPF) router protocols and in access control lists for Cisco routers.
Next-Gen WLAN: How 802.11ac Will Change Your Network Forever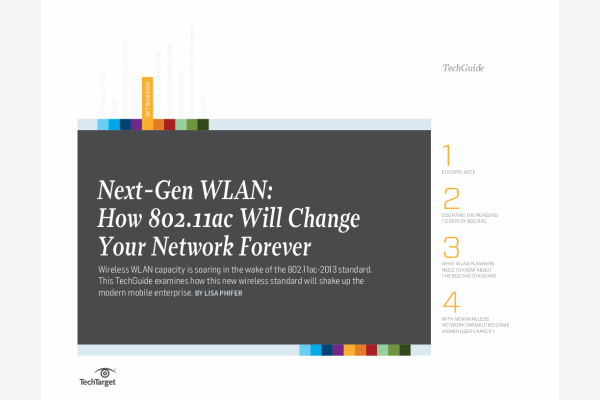 The IEEE 802.11ac-2013 standard is approved – but what does this mean for your network? Hear from experts on what this means for WLAN data rates, and why the WLAN will soon be a viable alternative to Ethernet.
By submitting your email address, you agree to receive emails regarding relevant topic offers from TechTarget and its partners. You can withdraw your consent at any time. Contact TechTarget at 275 Grove Street, Newton, MA.
You also agree that your personal information may be transferred and processed in the United States, and that you have read and agree to the Terms of Use and the Privacy Policy.

Once a packet has arrived at an organization's main gateway with its network number, that packet is routed to its ultimate destination using a subnet number. The wildcard mask is usually a string of binary digits shown over the subnet number, telling the router which parts of the subnet number to look at. A binary "0" over a particular digit in the subnet number says "Pay attention to this digit." A "1" says "Ignore this digit." In a wildcard mask, all the binary "0"s in a conventional subnet mask are replaced by "1"s and all the "1"s are replaced by "0"s.
Continue Reading About wildcard mask
PRO+
Content
Find more PRO+ content and other member only offers, here.