virtual private LAN service (VPLS) definition
Virtual private LAN service (VPLS) is a telecom carrier-provided service that makes it possible for customers to create a logical local area network (LAN) structure between geographically separate sites. All services in a VPLS appear to be on the same LAN, regardless of location.
Making Networks Virtual: The Latest on SDN Technologies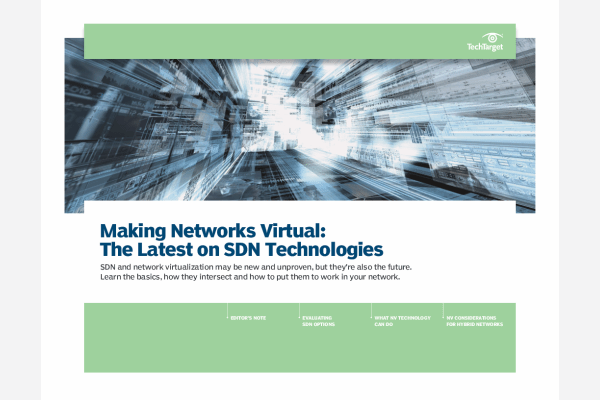 An exploration of Software-Defined Networking (SDN) technologies, network virtualization fundamentals, and the latest developments for both – helping IT pros adapt them to a modern hybrid network architecture.
By submitting your email address, you agree to receive emails regarding relevant topic offers from TechTarget and its partners. You can withdraw your consent at any time. Contact TechTarget at 275 Grove Street, Newton, MA.
You also agree that your personal information may be transferred and processed in the United States, and that you have read and agree to the Terms of Use and the Privacy Policy.

Unlike traditional wide-area network (WAN) connectivity or IP-based virtual private networks, a VPLS can be used to transport non-IP traffic without any need for conversion or encapsulation. A VPLS has a mesh network topology, which means it can provide point-to-point, multipoint services and any-to-any capabilities. In effect, VPLS creates a virtualized Ethernet switch at the service provider's edge, linking multiple remote sites as if they were on the same physical switch.
A VPLS uses multiprotocol label switching (MPLS) to create the appearance of a virtual private network (VPN) at each subscriber location. Ethernet packets are tunneled by pseudo-wire through the provider network, independent of traffic from other Internet users. Frames are forwarded according to layer 2 switching standards and fault-tolerance ensures that each packet arrives intact at its intended destination. Configuration and management of the VPLS can fall either to the service provider or to the in-house networking team, based on the needs of the individual customer.
Continue Reading About virtual private LAN service (VPLS)
Dig Deeper on LANs (Local Area Networks)
PRO+
Content
Find more PRO+ content and other member only offers, here.