universal network definition
The "universal network" is the idea of a single network that integrates the existing voice and public telecommunications network (including the Internet), cable TV, data networks, and video broadcast networks so that they work together well. Currently, each has a different kind of traffic and the older networks bear the burden of an out-of-date infrastructure. For example, the public voice network supports connections of phone-call duration and circuit-switching (although the same network also supports connectionless traffic and packet-switching for data). The video broadcast and cable TV networks deliver mainly the higher-bandwidth continous-flow traffic of streaming video and sound.
Next-Gen WLAN: How 802.11ac Will Change Your Network Forever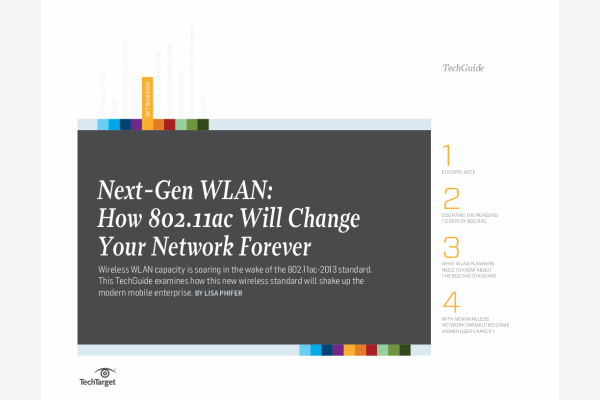 The IEEE 802.11ac-2013 standard is approved – but what does this mean for your network? Hear from experts on what this means for WLAN data rates, and why the WLAN will soon be a viable alternative to Ethernet.
By submitting your email address, you agree to receive emails regarding relevant topic offers from TechTarget and its partners. You can withdraw your consent at any time. Contact TechTarget at 275 Grove Street, Newton, MA.
You also agree that your personal information may be transferred and processed in the United States, and that you have read and agree to the Terms of Use and the Privacy Policy.

Juniper Networks planned something close to a universal network in a fiber-optic network that includes very fast (multigigabit) switches using microchips customized for Internet traffic. The microchips included application-specific (ASIC) circuits made by IBM. The switches used wave-division multiplexing (WDM).
PRO+
Content
Find more PRO+ content and other member only offers, here.