terminal adapter (TA) definition
A terminal adapter (TA) is a hardware interface between a computer and an Integrated Services Digital Network line. It's what replaces a modem when you are using an ISDN connection. Unlike "plain old telephone service," which carries signal in analog (voice) form between your computer and the telephone company's office, ISDN carries signals in digital form so there is no need to modulate and demodulate between analog and digital signals. The terminal adapter is what you have to install on a computer so that data can be fed directly into the ISDN line in digital form. Since ISDN service is not available from telephone companies in all areas, the terminal adapter is not usually built into a computer. You purchase and install it when you sign up for ISDN service.
Making Networks Virtual: The Latest on SDN Technologies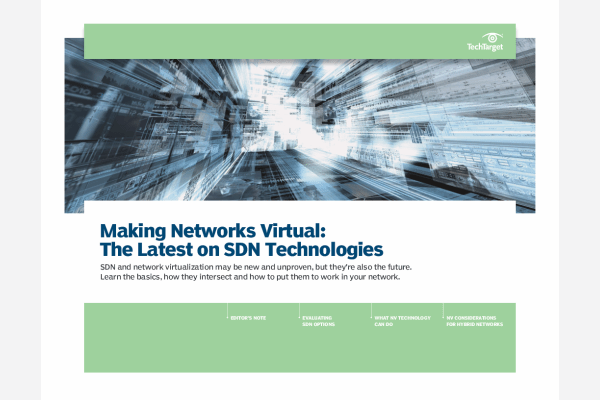 An exploration of Software-Defined Networking (SDN) technologies, network virtualization fundamentals, and the latest developments for both – helping IT pros adapt them to a modern hybrid network architecture.
By submitting your email address, you agree to receive emails regarding relevant topic offers from TechTarget and its partners. You can withdraw your consent at any time. Contact TechTarget at 275 Grove Street, Newton, MA.
You also agree that your personal information may be transferred and processed in the United States, and that you have read and agree to the Terms of Use and the Privacy Policy.

Some manufacturers and telephone companies use the term ISDN modem, instead.
Dig Deeper on Network Hardware
PRO+
Content
Find more PRO+ content and other member only offers, here.