Definition
terahertz (THz)
The terahertz, abbreviated THz, is a unit of electromagnetic (EM) wave frequency equal to one trillion hertz (1012 Hz). The terahertz is used as an indicator of the frequency of infrared (IR), visible, and ultraviolet (UV) radiation.

Download this free guide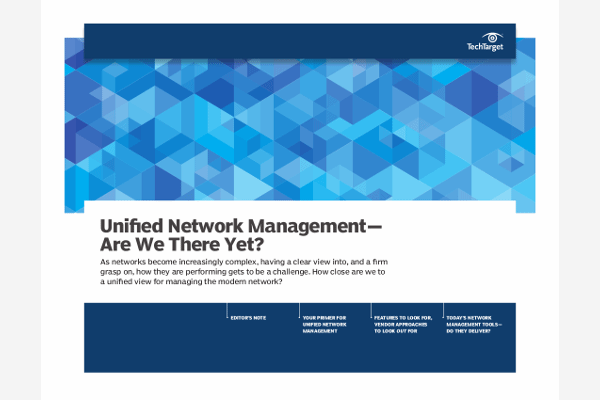 Keys to Managing Your Network in a Changing Dynamic
What does it really take to unify network management? In this guide, we examine today's unified network management tools, which vendors are doing what in the market, and what this means for you, the modern network manager.
By submitting your personal information, you agree that TechTarget and its partners may contact you regarding relevant content, products and special offers.
You also agree that your personal information may be transferred and processed in the United States, and that you have read and agree to the Terms of Use and the Privacy Policy.

An EM wave having a frequency of 1 THz has a wavelength of 0.3 millimeters (mm), or 300 micrometers (?). An EM wave of 540 THz is in the middle of the visible-light spectrum. Wireless transmissions and computer clock speeds are at frequencies far below 1 THz.
The terahertz is not commonly used in computer and wireless technology, although it is possible that a microprocessor with a clock speed of 1 THz might someday be developed. At present, the terahertz is of interest primarily to physicists and astronomers. More commonly-used units of frequency are the kilohertz (kHz), equal to 1,000 Hz or 10-9 THz, the megahertz (MHz), equal to 106 Hz or 10-6 THz, and the gigahertz (GHz), equal to 109 Hz or 0.001 THz.
Dig Deeper on Network Administration
PRO+
Content
Find more PRO+ content and other member only offers, here.