Teleportation is the duplication or re-creation of physical objects or their properties using light beams, according to researchers at the California Institute of Technology. Also calling it quantum teleportation, the researchers have successfully transmitted information about the properties of an object at the speed of light so that the object could theoretically be duplicated or reconstructed at the destination. The experiment takes advantage of the atomic particle property in which two particles at a great distance are in some mysterious way intertwined. Thus, an effect on one particle is almost simultaneously felt in the other particle as well. In physics, this characteristic is called entanglement. The CalTech researchers believe the characteristic may one day have practical applications, one of which would be a quantum computer in which information is moved with light using the entanglement principle rather than wires.
Technical Guide: How to Achieve Unified Network Management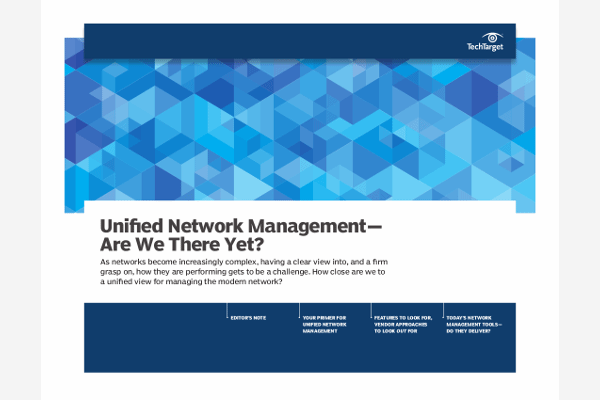 Quickly identify and resolve increasingly complex enterprise network issues. Access this comprehensive guide which reviews a holistic approach to enterprise network monitoring and the tools available to help achieve unified network management.
By submitting your email address, you agree to receive emails regarding relevant topic offers from TechTarget and its partners. You can withdraw your consent at any time. Contact TechTarget at 275 Grove Street, Newton, MA.
You also agree that your personal information may be transferred and processed in the United States, and that you have read and agree to the Terms of Use and the Privacy Policy.

In their experiment, the researchers created two entangled light beams. (A light beam is a stream of photons, and photons, which have both wave and particle characteristics, are the basic units of light.) The entangled light beams carried information about the quantum state of a third light beam over the distance of a yard (about one meter) at the speed of light. The researchers believe the concept can be applied to transmitting the physical property attributes of solid objects at the speed of light. Is there any difference between a particular solid object and the collection of its attributes reproduced at a great distance at the speed of light? The researchers say no one knows for sure.
This was first published in
April 2005
Dig Deeper on Network Design
PRO+
Content
Find more PRO+ content and other member only offers, here.