A star network is a local area network (LAN) in which all nodes (workstations or other devices) are directly connected to a common central computer. Every workstation is indirectly connected to every other through the central computer. In some star networks, the central computer can also operate as a workstation.
Technical Guide: How to Achieve Unified Network Management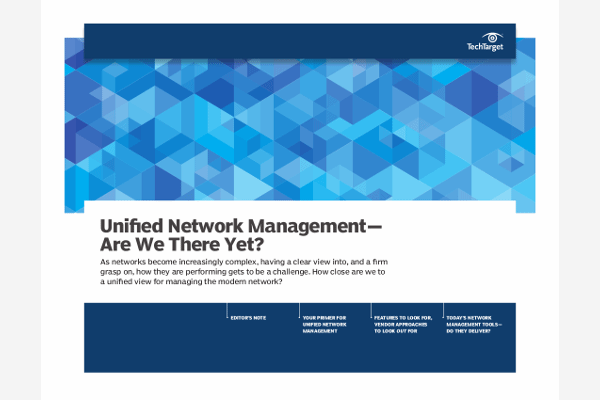 Quickly identify and resolve increasingly complex enterprise network issues. Access this comprehensive guide which reviews a holistic approach to enterprise network monitoring and the tools available to help achieve unified network management.
By submitting your email address, you agree to receive emails regarding relevant topic offers from TechTarget and its partners. You can withdraw your consent at any time. Contact TechTarget at 275 Grove Street, Newton, MA.
You also agree that your personal information may be transferred and processed in the United States, and that you have read and agree to the Terms of Use and the Privacy Policy.

The illustration shows a star network with five workstations (or six, if the central computer acts as a workstation). Each workstation is shown as a sphere, the central computer is shown as a larger sphere, and connections are shown as straight lines. The connections can be wired or wireless links.
The star network topology works well when workstations are at scattered points. It is easy to add or remove workstations.
If the workstations are reasonably close to the vertices of a convex polygon and the system requirements are modest, the ring network topology may serve the intended purpose at lower cost than the star network topology. If the workstations lie nearly along a straight line, the bus network topology may be best.
In a star network, a cable failure will isolate the workstation that it links to the central computer, but only that workstation will be isolated. All the other workstations will continue to function normally, except that they will not be able to communicate with the isolated workstation. If any workstation goes down, none of the other workstations will be affected. But if the central computer goes down, the entire network will suffer degraded performance or complete failure. If redundancy is required, the mesh network topology may be preferable.
This was first published in
December 2006
Dig Deeper on LANs (Local Area Networks)
PRO+
Content
Find more PRO+ content and other member only offers, here.