Definition
staggered quadrature phase-shift keying
Staggered quadrature phase-shift keying (SQPSK), also known as offset quadrature phase-shift keying (OQPSK), is a method of phase-shift keying (PSK) in which the signal carrier-wave phase transition is always 90 degrees or 1/4 cycle at a time. A phase shift of 90 degrees is known as phase quadrature.
Technical Guide: How to Achieve Unified Network Management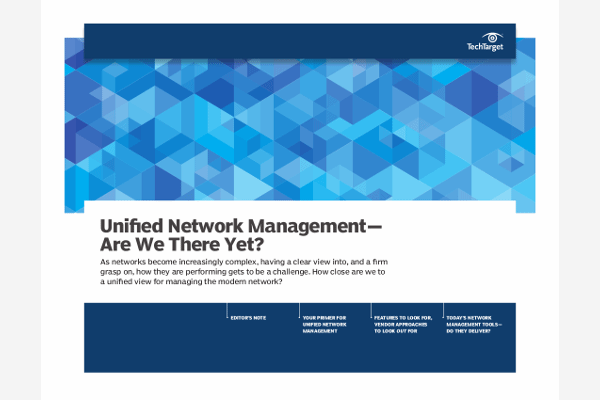 Quickly identify and resolve increasingly complex enterprise network issues. Access this comprehensive guide which reviews a holistic approach to enterprise network monitoring and the tools available to help achieve unified network management.
By submitting your email address, you agree to receive emails regarding relevant topic offers from TechTarget and its partners. You can withdraw your consent at any time. Contact TechTarget at 275 Grove Street, Newton, MA.
You also agree that your personal information may be transferred and processed in the United States, and that you have read and agree to the Terms of Use and the Privacy Policy.

In SQPSK, the data is placed alternately on two channels or streams called the I channel (for "in phase") and the Q channel ("phase quadrature"). A single phase transition can never exceed 90 degrees. This property contrasts SQPSK with conventional quadrature phase-shift keying (QPSK), in which the phase can sometimes change by 180 degrees (two 90-degree shifts in a single transition). The average magnitude of the phase transitions is smaller with SQPSK than with conventional QPSK. The result of the smaller average phase "jump" is an improved signal-to-noise ratio (SNR) and a reduced error rate.
SQPSK and QPSK are not the only methods of PSK in common use. In binary phase-shift keying (BPSK) there are two possible states for the signal phase: 0 and 180 degrees. In QPSK and SQPSK there are four possible states: 0, +90, -90 and 180 degrees. In multiple phase-shift keying (MPSK) there can be more than four possible states for the signal phase. An example is the use of eight phase states: 0, +45, -45, +90, -90, +135, -135 and 180 degrees. More than eight phase states are rarely used because that takes the signal complexity past the point of diminishing returns and the error rate actually increases.
This was first published in
June 2007
Continue Reading About staggered quadrature phase-shift keying
Dig Deeper on Network Administration
PRO+
Content
Find more PRO+ content and other member only offers, here.