Using the Internet Control Message Protocol (ICMP), a source quench is a message from one host computer to another telling it to reduce the pace at which it is sending packet to that host. The source quench is one of several ways to manage the flow of packets on the Internet.
Technical Guide: How to Achieve Unified Network Management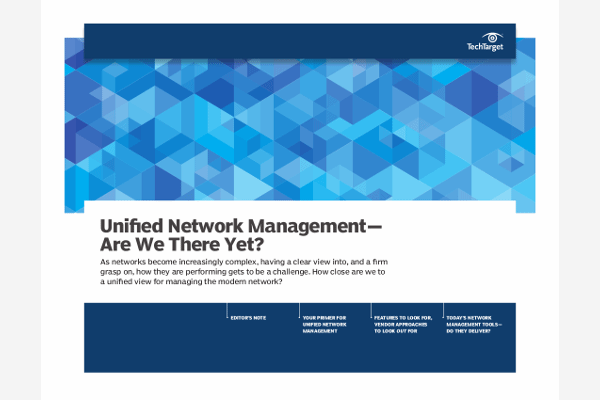 Quickly identify and resolve increasingly complex enterprise network issues. Access this comprehensive guide which reviews a holistic approach to enterprise network monitoring and the tools available to help achieve unified network management.
By submitting your email address, you agree to receive emails regarding relevant topic offers from TechTarget and its partners. You can withdraw your consent at any time. Contact TechTarget at 275 Grove Street, Newton, MA.
You also agree that your personal information may be transferred and processed in the United States, and that you have read and agree to the Terms of Use and the Privacy Policy.

Ideally, a receiving host would detect when packets were stacking up too fast and send a source quench in time to slow the pace down so that no packets were lost. Note that the Internet Protocol (IP) of which ICMP is a part does not itself guarantee the delivery of packets. Higher-level protocol, such as the Transport Control Protocol (TCP), have responsibility for ensuring successful end-to-end communication. IP and ICMP simply report errors or situations as they are detected so that packets can be resent or sent at a different pace. Source quench is not the only way to control flow in a network and not necessarily the most efficient way. In IP Version 4, the most commonly-used IP version, routers are not allowed to originate a source quench and are not obligated to act on a received source quench. Because the source quench message may itself increase network traffic, other approaches to network flow control are preferred.
This was first published in
April 2007
Continue Reading About source quench
Dig Deeper on Network Performance Management
PRO+
Content
Find more PRO+ content and other member only offers, here.