segmentation and reassembly (SAR) definition
In a packet-switched telecommunication network, segmentation and reassembly (SAR, sometimes just referred to as segmentation) is the process of breaking a packet into smaller units before transmission and reassembling them into the proper order at the receiving end of the communication. Packets are made smaller to speed them through the network and specifically because of specified packet size restrictions in a given path. In the Open Systems Interconnection (OSI) model, SAR is performed in the Transport layer at both ends. A transport protocol determines the size of the smallest maximum protocol data unit (PDU) supported by any of the involved networks, and segments the packets accordingly.
Next-Gen WLAN: How 802.11ac Will Change Your Network Forever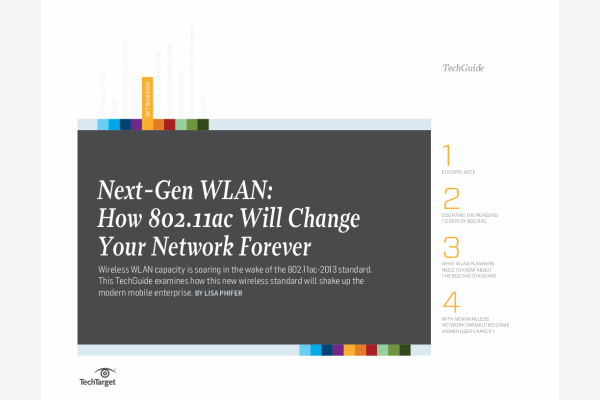 The IEEE 802.11ac-2013 standard is approved – but what does this mean for your network? Hear from experts on what this means for WLAN data rates, and why the WLAN will soon be a viable alternative to Ethernet.
By submitting your email address, you agree to receive emails regarding relevant topic offers from TechTarget and its partners. You can withdraw your consent at any time. Contact TechTarget at 275 Grove Street, Newton, MA.
You also agree that your personal information may be transferred and processed in the United States, and that you have read and agree to the Terms of Use and the Privacy Policy.

SAR is used for asynchronous transfer mode (ATM) communications. In TCP/IP, the same process is known as fragmentation.
Continue Reading About segmentation and reassembly (SAR)
PRO+
Content
Find more PRO+ content and other member only offers, here.