In packet-switched networks such as the Internet, a router is a device or, in some cases, software in a computer, that determines the next network point to which a packet should be forwarded toward its destination.

Download this free guide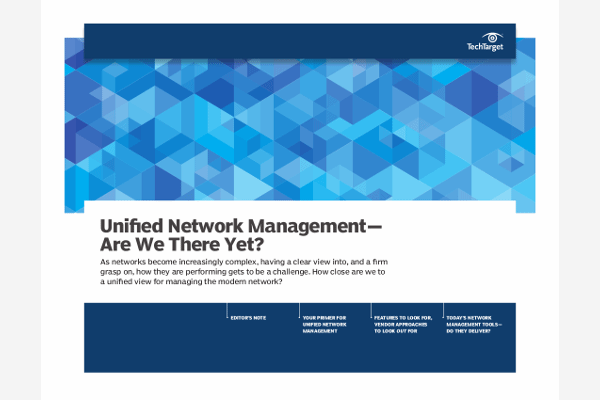 Download Our Guide to Unified Network Management
What does it really take to unify network management? In this guide, we examine today's unified network management tools, which vendors are doing what in the market, and what this means for you, the modern network manager.
By submitting your email address, you agree to receive emails regarding relevant topic offers from TechTarget and its partners. You can withdraw your consent at any time. Contact TechTarget at 275 Grove Street, Newton, MA.
You also agree that your personal information may be transferred and processed in the United States, and that you have read and agree to the Terms of Use and the Privacy Policy.

The router is connected to at least two networks and decides which way to send each information packet based on its current understanding of the state of the networks it is connected to. A router is located at any gateway (where one network meets another), including each point-of-presence on the Internet. A router is often included as part of a network switch.
A router may create or maintain a table of the available routes and their conditions and use this information along with distance and cost algorithms to determine the best route for a given packet. Typically, a packet may travel through a number of network points with routers before arriving at its destination. Routing is a function associated with the Network layer (layer 3) in the standard model of network programming, the Open Systems Interconnection (OSI) model. A layer-3 switch is a switch that can perform routing functions.
An edge router is a router that interfaces with an asynchronous transfer mode (ATM) network. A brouter is a network bridge combined with a router.
For home and business computer users who have high-speed Internet connections such as cable, satellite, or DSL, a router can act as a hardware firewall. This is true even if the home or business has only one computer. Many engineers believe that the use of a router provides better protection against hacking than a software firewall, because no computer Internet Protocol address are directly exposed to the Internet. This makes port scans (a technique for exploring weaknesses) essentially impossible. In addition, a router does not consume computer resources as a software firewall does. Commercially manufactured routers are easy to install, reasonably priced, and available for hard-wired or wireless networks.
Also see bridge, gateway, hub, and switch.
Continue Reading About router
Dig Deeper on Networking Tutorials and Technical Guides
PRO+
Content
Find more PRO+ content and other member only offers, here.