route poisoning definition
Route poisoning is a method of preventing a network from sending packets through a route that has become invalid. When the routing protocol detects an invalid route (such as can be caused by a severed cable or the failure of a network node), all of the routers in the network are informed that the bad route has a hop count of 16, which stands for infinity. This makes all nodes on the invalid route appear infinitely distant, thereby preventing any of the routers from sending packets over the invalid route.
Next-Gen WLAN: How 802.11ac Will Change Your Network Forever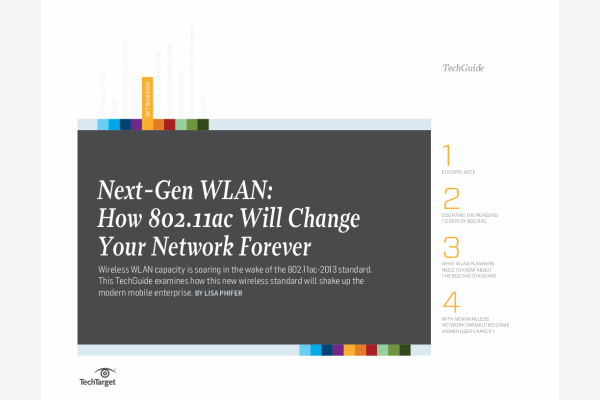 The IEEE 802.11ac-2013 standard is approved – but what does this mean for your network? Hear from experts on what this means for WLAN data rates, and why the WLAN will soon be a viable alternative to Ethernet.
By submitting your email address, you agree to receive emails regarding relevant topic offers from TechTarget and its partners. You can withdraw your consent at any time. Contact TechTarget at 275 Grove Street, Newton, MA.
You also agree that your personal information may be transferred and processed in the United States, and that you have read and agree to the Terms of Use and the Privacy Policy.

When the path between two routers in a network goes bad, all the routers in the network are informed immediately. However, it is possible for this information to be lost, causing some routers to once again attempt to send packets over the bad route. This requires that they be informed again that the route is invalid, and again, this information can be lost. The resulting problem is known as a routing loop. Route poisoning is used in conjunction with holddowns. A holddown keeps update messages from falsely reinstating the validity of a bad route. This prevents routing loops, improving the overall efficiency of the network.
Continue Reading About route poisoning
PRO+
Content
Find more PRO+ content and other member only offers, here.