In information technology, a protocol is the special set of rules that end points in a telecommunication connection use when they communicate. Protocols specify interactions between the communicating entities.
Next-Gen WLAN: How 802.11ac Will Change Your Network Forever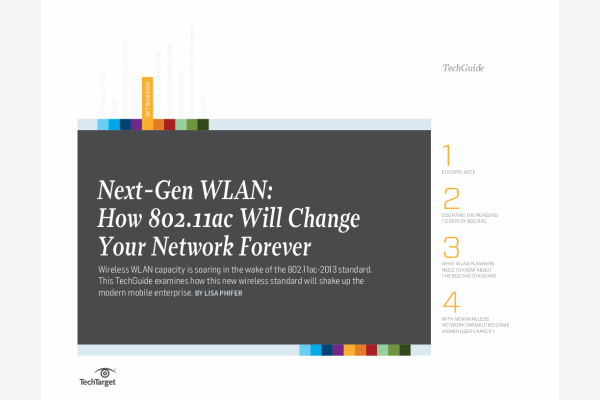 The IEEE 802.11ac-2013 standard is approved – but what does this mean for your network? Hear from experts on what this means for WLAN data rates, and why the WLAN will soon be a viable alternative to Ethernet.
By submitting your email address, you agree to receive emails regarding relevant topic offers from TechTarget and its partners. You can withdraw your consent at any time. Contact TechTarget at 275 Grove Street, Newton, MA.
You also agree that your personal information may be transferred and processed in the United States, and that you have read and agree to the Terms of Use and the Privacy Policy.

Protocols exist at several levels in a telecommunication connection. For example, there are protocols for the data interchange at the hardware device level and protocols for data interchange at the application program level. In the standard model known as Open Systems Interconnection (OSI), there are one or more protocols at each layer in the telecommunication exchange that both ends of the exchange must recognize and observe. Protocols are often described in an industry or international standard.
The TCP/IP Internet protocols, a common example, consist of:
Transmission Control Protocol (TCP), which uses a set of rules to exchange messages with other Internet points at the information packet level
Internet Protocol (IP), which uses a set of rules to send and receive messages at the Internet address level
Additional protocols that include the Hypertext Transfer Protocol (HTTP) and File Transfer Protocol (FTP), each with defined sets of rules to use with corresponding programs elsewhere on the Internet
There are many other Internet protocols, such as the Border Gateway Protocol (BGP) and the Dynamic Host Configuration Protocol (DHCP).
The word protocol comes from the Greek protocollon, meaning a leaf of paper glued to a manuscript volume that describes the contents.
Continue Reading About protocol
PRO+
Content
Find more PRO+ content and other member only offers, here.