network service provider (NSP) definition
A network service provider (NSP) is a company that provides backbone services to an Internet service provider (ISP), the company that most Web users use for access to the Internet. Typically, an ISP connects at a point called an Internet Exchange (IX) to a regional ISP that in turn connects to an NSP backbone. In the U.S., major NSPs include MCI, Sprint, UUNET, AGIS, and BBN.
Next-Gen WLAN: How 802.11ac Will Change Your Network Forever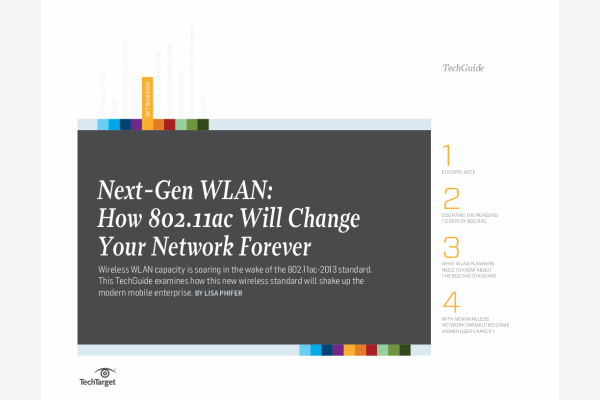 The IEEE 802.11ac-2013 standard is approved – but what does this mean for your network? Hear from experts on what this means for WLAN data rates, and why the WLAN will soon be a viable alternative to Ethernet.
By submitting your email address, you agree to receive emails regarding relevant topic offers from TechTarget and its partners. You can withdraw your consent at any time. Contact TechTarget at 275 Grove Street, Newton, MA.
You also agree that your personal information may be transferred and processed in the United States, and that you have read and agree to the Terms of Use and the Privacy Policy.

An ISP can purchase a wholesale dial access service from an NSP, which provides dialup connectivity for their customers. Customers then dial into their ISP's network using a local access number, which in turn connects to the backbone of that Internet provider's NSP. The NSP routes all traffic and basically provides the infrastructure needed for Internet connectivity. The NSP builds, maintains, and expands their infrastructure as Internet traffic demands. The ISP is responsible for its own network, sales and marketing, and customer service. An ISP can also purchase other services from an NSP that they in turn provide their customers such as e-mail service, Web-based e-mail service, personal Web hosting, chat, discussion groups, and other end-user applications. All these services are provided under the ISP's brand name rather than that of the NSP.
Continue Reading About network service provider (NSP)
PRO+
Content
Find more PRO+ content and other member only offers, here.