mesh network topology (mesh network)
A mesh network is a local area network (LAN) that employs one of two connection arrangements, full mesh topology or partial mesh topology.
Looking for something else?
TECHNOLOGIES
A mesh network topology is a decentralized design in which each node on the network connects to at least two other nodes. Mesh networks are expected to play an important part in the Internet of Things (IoT).
Next-Gen WLAN: How 802.11ac Will Change Your Network Forever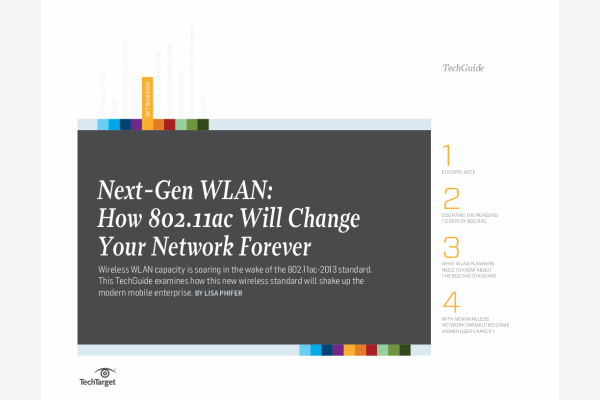 The IEEE 802.11ac-2013 standard is approved – but what does this mean for your network? Hear from experts on what this means for WLAN data rates, and why the WLAN will soon be a viable alternative to Ethernet.
By submitting your personal information, you agree to receive emails regarding relevant products and special offers from TechTarget and its partners. You also agree that your personal information may be transferred and processed in the United States, and that you have read and agree to the Terms of Use and the Privacy Policy.

Unlike nodes in a star topology, which require a router to deliver Internet service, network nodes can "talk" directly to each other without requiring the assistance of an Internet connection. A big advantage of this decentralized topology is that there cannot be a single point of failure (SPoF). If one node can no longer operate, all the rest can still communicate with each other, directly or through one or more intermediate nodes.
Mesh networks can use a full mesh topology or a partial mesh topology. In a full mesh topology, each network node is connected to all the other nodes in the network. In a partial mesh topology, at least one node connects directly to every other node while others may only connect to those nodes they exchange data with on a frequent basis.
In the past, when mesh networks were always wired, the topology could be expensive (and complicated) to implement because each node had to be physically connected to the other nodes. Today, however, advances in wireless communication and short-range wireless personal network (WPAN) specifications have removed the physical and financial barriers.
The illustration shows a full mesh network with six nodes. Each node is shown as a sphere and connections are shown as straight lines.
The illustration shows a partial mesh network with six nodes. Each node is shown as a sphere and connections are shown as straight lines. The connections in either a full or partial network can be wired or wireless.
Continue Reading About mesh network topology (mesh network)
Dig Deeper on Network Administration