media attachment unit (MAU) definition
MAU is also sometimes used as the abbreviation for the token ring network multistation access unit (MSAU).
Next-Gen WLAN: How 802.11ac Will Change Your Network Forever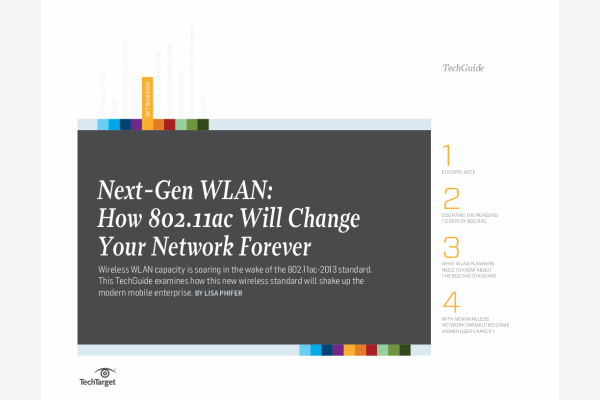 The IEEE 802.11ac-2013 standard is approved – but what does this mean for your network? Hear from experts on what this means for WLAN data rates, and why the WLAN will soon be a viable alternative to Ethernet.
By submitting your email address, you agree to receive emails regarding relevant topic offers from TechTarget and its partners. You can withdraw your consent at any time. Contact TechTarget at 275 Grove Street, Newton, MA.
You also agree that your personal information may be transferred and processed in the United States, and that you have read and agree to the Terms of Use and the Privacy Policy.

In an Ethernet local area network (LAN), a media attachment unit (MAU - rhymes with COW) is a device that interconnects the attachment unit interface port on an attached host computer to the Ethernet network medium (such as unshielded twisted pair or coaxial cable). The MAU provides the services that correspond to the physical layer of the Open Systems Interconnection (OSI) reference model. It provides an electrical connection and a transceiver that maps the digital bits between the computer and the network and detects collisions and retries transmissions. A MAU can be built into the computer workstation or other device or it can be a separate device.
Continue Reading About media attachment unit (MAU)
PRO+
Content
Find more PRO+ content and other member only offers, here.