media access management definition
In the Open Systems Interconnection (OSI) communication reference model, media access management is performed by the Media Access Control (MAC) sublayer of the Data-Link Layer.
Next-Gen WLAN: How 802.11ac Will Change Your Network Forever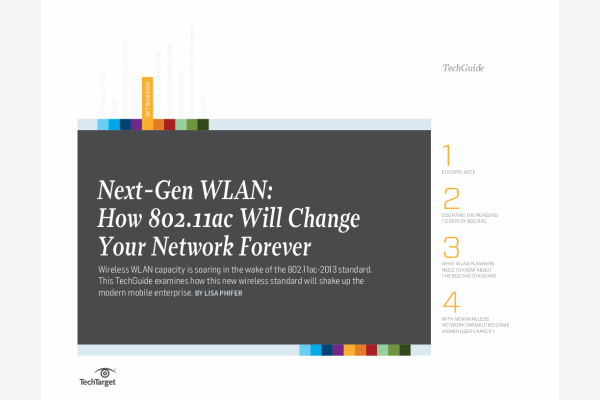 The IEEE 802.11ac-2013 standard is approved – but what does this mean for your network? Hear from experts on what this means for WLAN data rates, and why the WLAN will soon be a viable alternative to Ethernet.
By submitting your email address, you agree to receive emails regarding relevant topic offers from TechTarget and its partners. You can withdraw your consent at any time. Contact TechTarget at 275 Grove Street, Newton, MA.
You also agree that your personal information may be transferred and processed in the United States, and that you have read and agree to the Terms of Use and the Privacy Policy.

In an Ethernet network transmission, the function of media access management is to determine whether the transmission medium is free and available to send a frame. Media access management receives the frame from the Carrier Sense Multiple Access/Collision Detect (CSMA/CD) sublayer. It seeks to avoid collision with other traffic on the medium by monitoring the Carrier Sense Signal (CSNS) provided by the Physical Layer Signaling (PLS). Once media access management is satisfied that the transmission medium is available, transmission of the frame to the PLS can begin. If a collision does take place, media access management determines what action should be taken and when to try to send the frame again. Media access management is also responsible for checking a frame to determine its validity before passing it on to the data decapsulation function.
Continue Reading About media access management
PRO+
Content
Find more PRO+ content and other member only offers, here.